For your convenience we have added a new way to communicate with us – texting! Cell phones have become part of our everyday life. Now all you have to do is text this number and the message will be routed to your agent. Our new text number is 208-518-0823!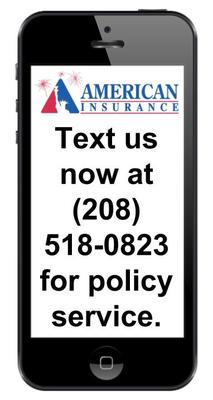 WHEN TO TEXT US?
Anytime you need policy service or have a claim you can send a text. You can text us a short message and also send pictures.
Text message to add or remove vehicles from your auto policy
Text pictures of your VIN number, purchase papers
Text claim pictures of your damaged vehicle or home loss
Text accident scene photos, other driver's license and insurance info
Text us for any insurance service need! (Make sure you identify yourself, if we don't already have your cell number)
Your American Insurance agent also has a direct phone number and email address you may want to note. That information is available online in our Staff Directory.
ADD US TO YOUR CONTACTS
208-746-9646 - Lewiston Office
800-735-6355 - Toll Free
208-746-9640 - Lewiston Fax
208-518-0823 - Text
American [at] Am-Ins [dot] com - Email
208-882-8544 - Moscow Office
800-767-0895 - Toll Free
208-882-7336 - Moscow Fax
208-518-0823 - Text
Moscow [at] Am-Ins [dot] com - Email
Need service when we're closed?