I met your agent, Dave Root, through golf and asked him about your "lunch on me" promotion to get quotes for all my personal insurance – home, cabin, autos, etc. I wanted to have a review of my coverage and to have an agent who I thought might take a personal interest in seeing that I was adequately insured. My previous agent was nice and had placed my coverage with Mutual of Enumclaw but my needs had changed and I think many agents don't stay in touch with their clients on an annual basis about the coverage that is in place.
After getting with Dave and reviewing my coverage and limits of insurance, I found that I could save over $700 a year in premium and improve my coverage. I felt is was time to change agents and to reinvest some of my savings in higher limits and better insurance protection. I was very pleased with the personal attention and service Dave has provided and would recommend him to others. I feel more like I have someone who is looking out for me and my needs not just the commission on the account.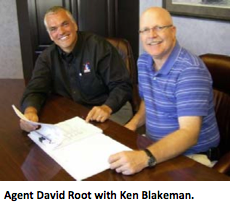 There are no comments yet.