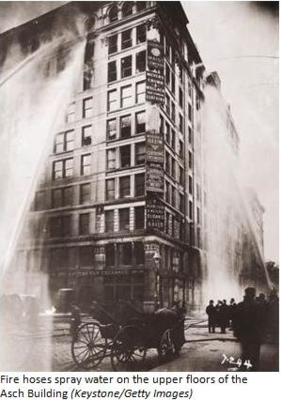 On March 25, 1911 the Triangle Shirtwaist Factory in New York City caught fire taking the lives of 146 people. This tragedy led to the beginnings of workers compensation insurance and ushered in a new era of workplace safety, according to the Insurance Information Institute (I.I.I.).
The Triangle Shirt Waist Factory fire was the deadliest workplace disaster in New York City history prior to the terrorist attach of September 11, 2001.
One hundred and twenty-three of the victims were women, most in their late teens and early 20s. The Triangle Company manufactured ladies' shirtwaists, a popular garment of the era. The circumstances surrounding the fire contributed to the enormity of the loss of life, and caused widespread shock at the time. The cramped quarters, long tables and bulky machines trapped many of the victims, and the company's owners acknowledged locking one of the building's upper-level doors, which only they could open. Furthermore, the building had only one fire escape, which collapsed during the rescue effort. The public outcry following the fire set into motion dramatic chaNews-2011-TriangleShirtwaistFire-III.pdfnges in the state laws and regulations regarding workplace safety and risk reduction.
After the fire, Alfred E. Smith, a future New York governor, and Robert F. Wagner Sr., a future U.S. Senator from New York, were the state Assembly majority leader and the head of the state Senate, respectively, and were instrumental in spearheading reforms to workplace safety laws. Governor John Dix signed into law a bill creating the Factory Investigating Commission on June 30, 1911. Many of the recommendations from that commission were incorporated into legislation in 1912 and 1913. New York State subsequently required automatic sprinklers in high-rise buildings, mandatory fire drills, and factory doors had to be unlocked and swing outward. Moreover, in 1914, New York's State Insurance Fund (SIF) opened its doors, giving employers the opportunity to purchase workers compensation and disability insurance coverage for their employees.
"Property and casualty insurers in 2011, unlike a few P/C insurers who were operating in 1911, focus constantly on life safety, fire prevention, and having their policyholders maintain important fire protection features," said Michael Barry, vice president, Media Relations, I.I.I.
Moreover, insurers today allocate substantial resources to verifying the adequacy of a building's fire barriers and fire protection systems as well as the commercial policyholder's employee training and fire prevention programs. Insurers also look more intently at a building's exit arrangements, something that was rarely considered in the early part of the 20th century. Policyholders who proactively reduce their risks enjoy a lower premium rate. Read more…
Source: Insurance Information Institute, News Release – Mar 18, 2011
There are no comments yet.