The Student Health Insurance Program (SHIP) is being withdrawn from four Idaho universities beginning July 31, 2015. Students at Lewis-Clark State College, Boise State University, Idaho State University and Eastern Idaho Technical College will need to acquire other qualified health insurance coverage to enroll in the fall semester. The University of Idaho uses a different student health plan which they will continue to offer. Qualified health insurance is still required for all students who enroll in Idaho colleges and universities.
The Idaho State Board of Education made the decision to change their Governing Policies and Procedures at their February 2015 meeting to allow each university to decide whether they want to continue offering SHIP coverage. The action was prompted by declining SHIP enrollments due to the launch of The Affordable Care Act (ACA) and health insurance exchanges / marketplaces in every state. This is causing SHIP premium rates to rise sharply to over $200 per month. Students can now be covered up to age 26 on parents health insurance or can find lower cost ACA health insurance plans available from Idaho's health marketplace, Your Health Idaho.
"We are helping students find lower-cost health insurance plans through the Idaho exchange at Your Health Idaho", said Dave Root, a certified health insurance agent at AMERICAN INSURANCE in Lewiston. Root said, "Many working students may receive subsidized premiums that will substantially lower their costs. We provide free assistance and will quote all available insurance plans, explain and provide advice on insurance coverage, calculate premium tax credits and cost sharing, and provide enrollment assistance. All ACA plans are guaranteed issue regardless of health conditions and certain plans will qualify for the required student health insurance."
CONTACT AMERICAN INSURANCE FOR ASSISTANCE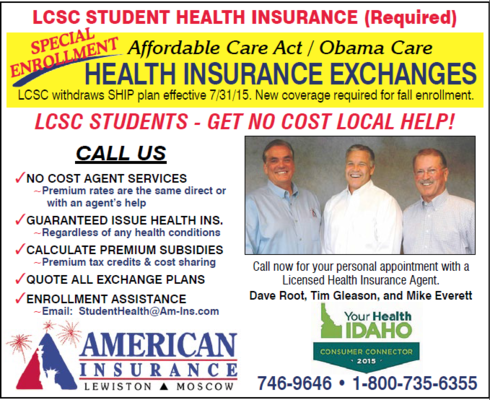 There are no comments yet.