Lobbies are now open at AMERICAN INSURANCE offices in Lewiston and Moscow.
As an essential business, we have remained open to serve you by phone, email and online during the COVID stay-at-home period. But, honestly,we have missed seeing you. We are a personal business and enjoy the many great relationships we have built with you, our customers.
On June 1st we re-opened our lobbies in Lewiston and Moscow for in-person services. To safely serve you, we have installed plexi-shields on our front counters and desks to accommodate your in-office visits. Face masks are optional and not required. Customer contact areas are sanitized between customer visits.
Welcome to our office
Together we can safely handle your necessary in-office visits with these safety protocols:
Sick? If you feel sick or have been exposed to anyone who it, please call us for service: 208-746-9646 Lewiston or 208-882-8544 Moscow. Nearly every transaction can be handled easily by phone (make payments by phone, get quotes, make policy changes, report claims)
Social Distancing – please practice the 6 foot rule (except when separated by plexi-shields)
Cover coughs and sneezes
Limit group visits to two people
Face masks are optional and not required (single-use masks can be provided at your request)
Anyone who is sick or who still prefers to avoid coming into our office can still call us as nearly every transaction can be handled easily from home by email, mail or by phone.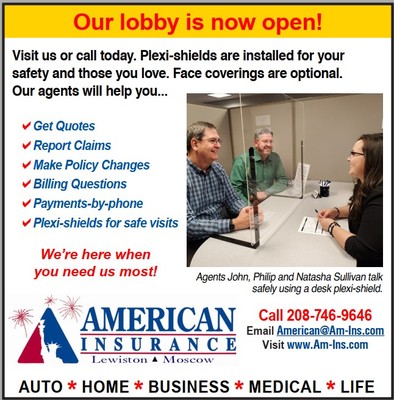 Convenient ways to contact us:
We thank you so much for understanding!
The Sullivans & Staff