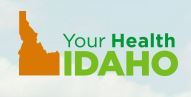 UPDATE: Idaho announced on Feb. 12 that a new enrollment period will be added from March 1 through March 31. The Washington Health Benefit Exchange had earlier announced that in coordination with the Federal Marketplace, they had opened a health Special Enrollment Period (SEP) from Feb. 15-May 15. The new SEP was created by Executive Order signed by President Biden on January 28th as part of the Public Health Emergency caused by the COVID-19 pandemic.
American Insurance health agents are certified for both exchanges to help our clients understand what plans are available, see if you qualify for premium subsidy (credits) and enroll in a plan. Contact us or email Medical [at] Am-Ins [dot] com to talk with a health agent at American Insurance today to discuss your options.

"We are so glad that Washington has chosen to extend the opportunity for health care options to our area residents there," said Tim Gleason, health insurance agent at American Insurance. "So far, we have not learned of Idaho offering the same opportunity through the exchange. However, we still do have several options available if our clients need health insurance in The Gem State."
The special enrollment period in Washington will apply to anyone seeking health insurance coverage. Individuals shopping for coverage during this special enrollment period that select coverage by the 15th of the month will begin receiving coverage the first of the following month.

It is expected that Healthcare.gov, the Federal Exchange, will sponsor extensive national outreach and advertising which will assist in getting the word out to Washingtonians.
Clients or area residents who have lost health insurance benefits in either state due to a business closure, employee layoff, or reduced work hours do have new options and are invited to contact Tim or Dave Root for more information or a quote for health insurance coverage.
Get more information!
Contact us or email Medical [at] Am-Ins [dot] com to talk with a health agent at American Insurance today.
More articles related to…