My employees had one wish for the 2015 new year – faster, more reliable internet to provide the best service possible for our clients. Their new year's wish is coming true with the installation of a new fiberoptic business connection through CenturyLink. But, getting fiber routed to our office building was a challenge.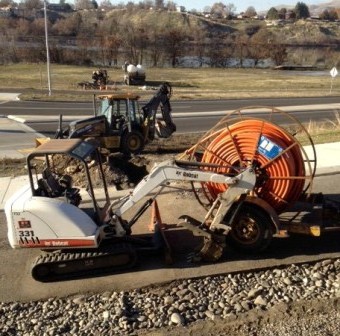 The fiber line runs parallel to Snake River Ave on the west side. So, they had to bore more than 100 feet under three road lanes to reach our office. Another challenge was missing high pressure natural gas lines along the way. Next they inserted 3 inch orange conduit the entire distance. The final stage will be to insert the fiberoptic cables and establish service at our office. We hope to have the new dedicated 30 megabite fiberoptic connection by early February 2015.
This change to a fiberoptic service should mean more stable connections, faster processing speeds, and the ability to do more in less time. But, technology aside, great customer service starts with our dedicated staff. Nothing substitutes for the one-on-one relationships they maintain, the personalized advice that comes from knowing their clients, or the persistence to find the best answers to every insurance request. Internet service is just a business tool to get that work done efficiently. To the credit of my staff, they don't tolerate any barriers to providing the best possible customer service.
One final note: I must admit, I am a bit-of-a-pessimist when it comes to these technical endeavors. Things never go as smoothly as hoped. So, don't be surprised (I won't be) if we lose service at some point for a number of hours or even a day while we get all the bugs worked out. But rest assured, we will be running better than ever with the latest technology to provide you the best service possible in 2015 and beyond.