Dave Root received recognition at the AMERICAN INSURANCE 2017 Christmas party for his 30 years of service. John Sullivan, agency President, presented Dave with a crystalline tower award engraved with the following message -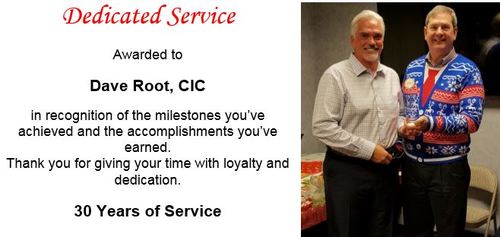 Dave started his insurance career in 1981 as a captive Farmers Insurance Agent. Dave said, "I soon found that being able to quote just one company was not to my liking. I wanted to be able to offer multiple options and actually do the shopping for my clients."

"I found that I needed the resources of AMERICAN INSURANCE so, I would call Frank "Sully" Sullivan for help in writing commercial accounts that I was not able to even quote as a single company agent. He treated me as an equal even though I needed a lot of hand holding in those days. That relationship blossomed into the opportunity to join the team with John Sullivan at AMERICAN INSURANCE in 1987."
Dave continued, "I've really appreciated the opportunity to grow with the agency over the last 30 years and the opportunity for growth in my insurance education that I have had access to. Knowing that I can make the appropriate recommendations to my clients and also have the companies to fulfill those needs is very rewarding. It keeps my clients happy to know they are getting their insurance shopped for them without them having to do all the work."
Dave is designated as a Certified Insurance Councelor (CIC), and has been a licensed insurance agent since 1981 for property, casualty, surety, life and health.

He specializes in programs for contractors including bonding, truckers (repo and auto transporters as well as intermodal and general hauling), manufacturers, dealers and restaurants as well as other businesses with intricate commercial exposures. He has advanced his insurance knowledge through various industry schools and has the expertise to insure all your personal and commercial insurance needs.
After growing up in Florida, Dave moved to the LC valley in 1979 with his wife (Jody) and two daughters (Debbie and Cindi) to attend WSU Over the years, he was active in youth sports, served as a past board member and committee chairman of the Lewiston Chamber of Commerce as well as the Lewiston Golf and Country Club. Dave enjoys the outdoors, fishing and is an avid golfer, but he enjoys the time with his four grandsons most of all.