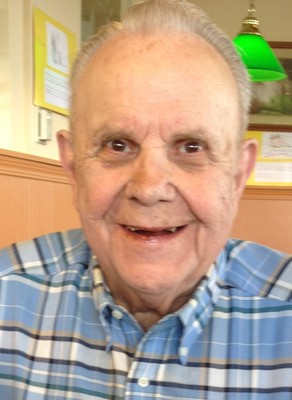 Palmer Standford Chase, 91, retired educator and school administrator in Orofino, ID, passed away at Life Care Center in Lewiston on August 18, 2016, with loving family at his side. He was born on April 5, 1925, at the family home on their farm in Reubens, ID, to Charles Irvin and Agnes Joanne (Eikum) Chase. It was Palm Sunday. So, with the encouragement of his Paternal Great Grandmother Culdice, he was named "Palmer".
His early years were on the farm with two older brothers, Wayne and Levon and then younger brother Clinton. Farm life and his first horse named "Pet" sparked a lifelong love of horses, gardening and canning fruits and vegetables.
When he was 4 years old his father, Charles, became sick with Bright's (kidney) Disease and passed away within a year. The family then moved to the Lewiston Orchards where Palmer attended the Orchard's Elementary School from the 1st through 8th grade, attended 9th grade at the old Lewiston Jr High and then at Lewiston High School graduating in 1943.
His mother, Agnes, raised four strapping boys on her own with Norwegian determination, hard work, and an emphasis on a good education. To support the family she received a $25/mo Army pension, worked in the fruit farms, strawberry & raspberry patches to make enough money to get by. They didn't have a car. Later she clerked at Lewiston's Woolworth's Five & Dime store. The boys were fearless and at age 10, Palmer and brothers would make extra money by topping the trees of fruit (other people wouldn't want to climb that high). They would get up at 4:30 in the morning and walk to the fields before it got too hot. Old man Zimmer would send the boys home with some apple cider. Uncle Otis Tetherow had a big strawberry & raspberry patch and orchards. He was the packing plant manager and hired the boys to box cherries in wooden boxes and label them. Grandpa Albert Chase had a farm in the east orchards (just before you descend into Tammany).
Palmer was a good athlete from the beginning. In grade school he was the school yard champ at basketball with Nellie Ulrich on the outdoor basketball court. Those two, Palmer and a girl, Nellie, would take on all comers – 3 and 4 on a team against the two of them and they would win. He also played baseball, basketball and marbles. He remembered getting into trouble for playing marbles for "keeps". His teacher was Lillian McSorley who later was a beloved principal at Webster Elementary and then had the new elementary school dedicated in her name. Daughters Charlotte and Cynthia say they attended Webster Elementary where Mrs. McSorley was their principal and were openly favored because of her fondness for their dad, Palmer.
Palmer excelled at Lewiston High School as a leader in sports, academics and student activities. He was on the honor roll and presented the Senior Honor Representatives at Graduation Ceremonies; He played first base & catcher in baseball, was Idaho All-State Guard in basketball and was ID & WA All Bi-State Quarterback in football. He lettered in all three sports, all three years of High School; and, he was Jr. Class President and then elected Student Body President his senior year. He graduated from LHS in 1943.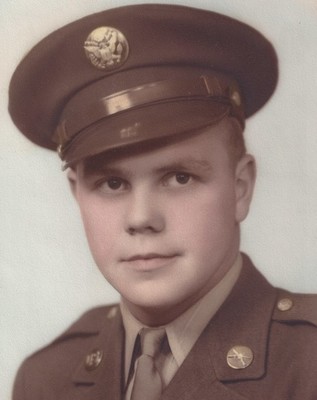 WWII was underway so Palmer enlisted in the Navy V-12 College Training program for officers. His left eye vision was damaged by a firecracker thrown by a friend when he was 12 years old. So, to pass the first eye exam he memorized the eye chart to fake the eye test on his left eye. But, six weeks into training they did new physicals and disqualified him due to less than perfect vision in his left eye. He was then drafted by the Army, took basic at Camp Roberts, CA. and quickly promoted to Staff Sergeant while stationed at Fort Sill, OK. Later he was transferred to Fort Knox, KY as a trainer in Field artillery and tanks. He rose to the rank of Master Sergeant and was honorably discharged on October 27, 1946.
Palmer married his high school sweetheart, Gloria Bernice Morgan, on January 1, 1944 in Lewiston. They had two daughters, Charlotte and Cynthia, whom he adored. They made their first homes in Lewiston and then in Clarkston where they enjoyed riding and raising horses and gardening. The marriage ended in divorce after 19 years.
During this time he worked in his in-laws business, Morgan Bros, Inc. (a wholesale supply), for 17 years; first as a warehouse man, then delivery, salesman and finally as bookkeeper. He served as corporate President one year while they spruced up their operation for Federal inspection.
Palmer was active in civic affairs. He was in the Junior Chamber of Commerce serving as Secretary, then as President of the local chapter in 1954 and later as Idaho State JC Secretary. Palmer was an official for high school and college sports as referree in football and basketball and umpire in baseball. He served as the Commissioner of Officials and did the scheduling for high schools and Lewis Clark State College for 30 years (1947 to 1976). Palmer was as a member of the Nez Perce County Mounted Sherriff's Posse. They were called out for mounted search & rescues and jail break manhunts. One time, a couple escaped from Nez Perce County jail then stole a car that broke down near Lapwai. They searched on horseback and captured them with rifles drawn just outside of Lapwai. (The woman was naked he recalled with a grin). Palmer rode a big buckskin gilding horse called "Mike". The Posse also rode in parades and performed figure 8 in & out precision drill team riding at the Lewiston Roundup with colors.
Palmer made a career change and went to University of Idaho in September of 1963 to finish his college education. He Graduated from U of I with a Bachelors of Arts in Education in 1964. He then went to Graduate School and earned a Masters Degree of Arts in History in 1966. Palmer worked at Skelton's Carpet as bookkeeper while finishing the Masters program.
While living in Moscow and attending the U of I, Palmer married Betty C. Sullivan in June 1965. She was finishing her degree in primary education, graduating in 1966. Thus began both their careers in education and 50 years of love and devotion. Palmer was hired as as a high school teacher in Orofino. Betty was hired as an elementary school teacher there. They commuted to work for three years while making their home in the Clarkston Heights before moving to Orofino in 1968. Palmer taught high school math, science, history and English for 3 years and then was hired as the Jr. High Principal for 9 years. He was then hired as District Assistant Superintendent for Orofino Joint School District 171 for 11 years until retirement in 1988.
Palmer was an active member of the First Christian Church of Orofino. During retirement he volunteered for AARP, the Orofino Senior Center, and helped seniors with income tax filings. He enjoyed gardening and canning fruits and vegetables, bowling with the Senior Orofino Bowlers (the S.O.B.s) and traveling to England, Norway, Hawaii and Alaska. For the last 10 years he was totally devoted to caring for Betty in their home as she suffered from Alzheimer's disease.
Palmer was preceded in death by his parents, his three brothers - Wayne, Levon and Clinton Chase, and his wife, Betty. He is survived by his daughters, Charlotte (Jay) Henry of Pomeroy, WA, Cynthia M. Chase-Spilman of Richland, WA; step-sons, Harry C. Sullivan of Bellevue, WA and John (Pamela) Sullivan of Lewiston; sisters-in-law, Nellie Chase of Orofino and Pat Chase of Bloomington, Ind., and grandchildren and great-grandchildren too numerous to list.
The family is holding a public graveside service in remembrance of Palmer at 10:00 A.M. Saturday, August 27th at the Normal Hill Cemetery, Division 3, Row 68, in Lewiston. Following the service, family and friends are invited to a life celebration at 11:00 A.M. at the Quality Inn in Clarkston. Light lunch and beverages are provided. Cards and letters may be mailed to the Chase Family, PO Box 559, Lewiston, ID 83501. In lieu of flowers, please make a donation to the charity of your choice.