The following story by Doug Bauer was published in the Lewiston Tribune on June 27, 2014.
John B. Sullivan doesn't have to think too hard to remember where he's been for the past 29 Fourth of July celebrations. The former president and current vice president of Community Spirit has been at Adams Field, enjoying the annual fireworks display he helps stage on an annual basis.

Sullivan joined the family business, American Insurance, in 1977 as a third-generation agent. He's been president and general manager of the firm since 1996, and counts two of his sons among his agents.
In his down time, Sullivan is a television, movie and reading buff. His favorite pursuits are science, history and science fiction.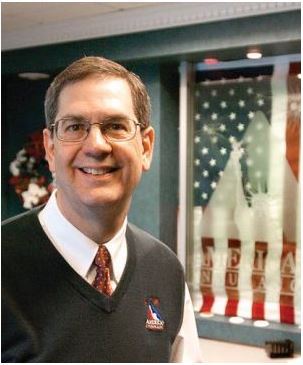 Doug Bauer: What is the most challenging aspect of putting on the annual fireworks show?
John Sullivan: We contract out all the services that are needed for the fireworks. We've used the same pyrotechnic firm for probably the last 25 or 26 years, called Entertainment Fireworks Inc. They just do a bang-up job for us, excuse the pun. But really, raising the money through our corporate sponsors is the challenge. We've met that challenge by the great services of Ida Vend Broadcasting, which is our media sponsor. They take on the challenge through their sales staff and their work to attract corporate sponsors, and (then) advertise those sponsors over their radio stations as sponsors or major sponsors. That, plus the generous donations we get at the gate at Adams Field during the performance, is the glue that holds the financial part of it together.
DB: Can you describe a typical Fourth of July for you?
JS: My pattern anymore is I'm up early with a crew of volunteers, who are very gracious ... and we go pick up 33 flags from the Clarkston VFW and transport them to Adams Field. We want to make sure they get up and unfolded in the locations around the field so we can all watch the flags fly for ... Independence Day. So I do that, and set up the gates, and rope off areas for safety and take care of that part of it. And then when the show is over we immediately get out there and take down the flags, make sure they're folded up correctly, and kept clean and dry. And we reload those and take them back to the Clarkston VFW. So it starts about 7 a.m. and ends at midnight. But every year I'm there to watch the aerial fireworks with my family, and spend that 20 minutes oohing and ahhing with everybody else, because it's just a great feeling to focus all our attention for a day, an hour, a moment on what independence really means. ...
We always encourage families to come, because we're celebrating and it gives us a reason to explain to the next generation the cost and the benefits of independence and freedom. It's not free; it's worth fighting for. It's something that's been a remarkable experiment in the world and one we want to see continue.
DB: Have there been years that were more challenging than others?
JS: We only had one bad year. It was about the second year where we blew up the fireworks completely. That was before we hired professional pyro-technicians. There was a misfire during a test shelling, and a hot shell fell right into the pile of sorted fireworks, and they all went off in every direction. It was very dangerous, very scary. People were running for their lives. But that was the one and only ... mishap, and we went to a professional pyrotechnic show immediately after that. And we got the funding up over time so we could shoot the show safely electronically, and we've had no problems ever since. It's been perfect.
DB: You've been around the insurance industry most of your life. How is it different today than when you started as an agent?
JS: Insurance, like everything else, has become more regulated, more complex. We handle more lines of insurance. We've grown from a small-town agency to a multi-state agency with large employers, so the account sizes have gotten larger. Things are more complex all the way through, so you've got to be fully professional to be in that arena.
DB: You enjoy science fiction. What are some of your favorite aspects of it?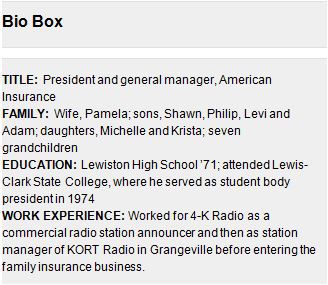 JS: Actually, in sixth grade I read the book "Wrinkle in Time" ... and that's the first time my imagination was really caught up in time travel and science fiction. ... Every Star Trek movie, I've seen. I've read all the books the authors have written. I just got into it. And then I got into Isaac Asimov sci-fi books, from "I, Robot" to his Foundation Series, which is probably nine books. He was really the forerunner of most modern science fiction. So I watch every blockbuster out there now, from the comic books on down. ... In later years, I've really started enjoying science for science's sake. I'm just amazed at the progress we make.