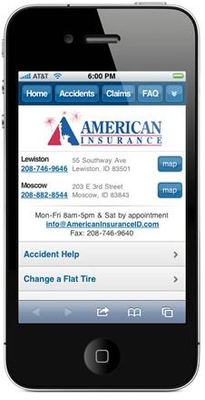 Smart phones have features that make documenting and reporting auto accidents or any claim quicker and easier. With millions of smart phones now in our hands they are a ready tool to help protect you and your interests after a claim. Here are few ideas on how to use your smart phone features after an accident…
Phone – call 911 to report your accident to local police and seek emergency medical response if needed. Having cell phone access is a wonderful safety and security device. Call us day or night for claim advice and help. We have on-call agents for after hours and weekend assistance.
Mobile website: m.Am-Ins.com . Put us in your mobile internet favorites for quick & easy access to information and advice.

Pictures – after a non-injury fender bender, take pictures with your phone of the scene. Get pictures of the full scene, then closer pictures of vehicles, damage, people involved and bystanders before everything gets moved. Pictures will help tell the correct story in a disputed claim.
Video – you can ask witnesses to tell what they saw happen on video. Have them say their name, address and phone number and then what they saw happen. A witness to an accident or parking lot incident when no police will respond is very powerful for the adjuster to determine liability. Even video yourself while the incident is fresh in your mind.
Email – you can email the pictures and/or video to us immediately to:

info [at] AmericanInsuranceID [dot] com

referenced on our mobile website.
Notes – type or dictate information into your notes for future reference.
There are lots of creative ways to use your smart phone to make claim documentation and reporting smarter. Email us your ideas to info [at] AmericanInsuranceID [dot] com.