You are our best advertising! So, rather than pay for advertising, we'd rather pay you.
Help us spread the word about our great insurance rates and personal service. Who do you want us to send an invitation to quote & save?
Everybody appreciates a good deal. For qualified referrals you provide that receive preferred quotations you receive a $10 Gift Card. No purchase is necessary.
For complete details read Promotion Rules and Regulations below.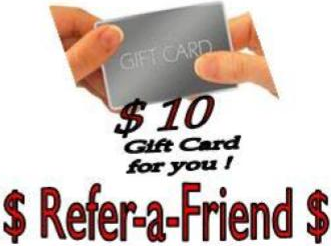 Promotion Rules and Regulations
Name and dates of promotion: This promotion is named "Refer-a-Friend" which is continuous until a cancellation date selected at the sole discretion of the Sponsor.
Who is the sponsor? The sponsor is AMERICAN INSURANCE NW, 55 Southway Ave, Lewiston, ID and hereinafter referred to as "Sponsor".
Acceptance of Rules: Participation constitutes entrant's full and unconditional agreement to these rules. The decisions of the sponsor in regards to all matters of this Promotion are final and binding.
Who is eligible? This promotion is restricted to AMERICAN INSURANCE NW customers and certain other invited groups. Employees of AMERICAN INSURANCE and their household members are not eligible to participate.
How do you participate? You may deliver "qualified referral" information by phone, fax, email, US mailed, website www.Am-Ins.com or in-person to AMERICAN INSURANCE in Lewiston or Moscow.
What is a "qualified referral"? It is the accurate name, mailing address and contact phone number of a living person, age 21 or older, who is not a current policyholder of AMERICAN INSURANCE. All residents of a referral household address are considered as only one referral.
How do you receive a Quotation Prize? When a qualified referral obtains a "preferred quotation" for auto or home insurance from AMERICAN INSURANCE the person who referred them receives a $10 Gift Card! No purchase is necessary. Limit 2 - $10 gift cards per calendar year.
What is a "preferred quotation"? It is an auto or home insurance quotation that qualifies for preferred rates and discounts based on the specific underwriting rules of the insurance company being quoted. Generally, individuals who in the last three years have auto accidents and/or driving infractions, home owners with liability or property claims, bankruptcies or low insurance scores will not qualify for preferred quotations.
Gift Cards: Gift Card awards will be for a specific local business that provides meals, coffee, gas, or other merchandise at the discretion of the Sponsor. Sponsor may substitute a Gift Certificate when cards are not available.
Other Rules: No cash or other prize substitution, assignment or transfer of prize is permitted. The recipient is solely responsible for all federal, state, and local taxes associated with the receipt of any award. No purchase necessary. Promotion is void where prohibited by law or insurance regulation.