Experts fear we are on the threshold of a bedbug pandemic!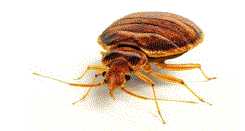 It's a public relations nightmare for hotels in major cities across America. Begbugs have checked in and guests are checking out! These are uninsured losses that are very costly to treat. And, experts say bed bugs are THE most difficult pest to treat - even more so than cockroaches, ants and termites.
After a decades-long hiatus, bedbugs have made a creepy-crawly comeback in hotels, office buildings, department stores --everywhere -- all across the U.S. In fact, according to a recent poll conducted by the National Pest Management Association (NPMA), 95% of the pest control companies surveyed reported a bedbug infestation within the last year -- up an astounding 70% from more than a decade ago.
"The results of the Comprehensive Global Bed Bug Study suggest that we are on the threshold of a bed bug pandemic, not just in the United States, but around the world," said Missy Henriksen, vice president of public affairs for NPMA.
Are you traveling across this great nation any time soon? You might want to think about the bedbug situation. Bed bugs are excellent hitchhikers and are easily transported. They will hide in suitcases, boxes and shoes to be near a food supply. They like to hide in small cracks and crevices close to a human environment. Bed bugs are most often found in bed parts, such as mattresses. box springs and folded areas. They can also conceal themselves behind baseboards, wallpaper, upholstery, picture frames, electrical switchplates, and in furniture crevices. Beg bugs are also known to survive in temporary or alternative habitats, such as backpacks and under the seats in cars, buses and trains.
The NPMA has created a comprehensive website called "All Things Bedbugs" that includes these tips for travelers…
TIPS FOR TRAVELERS
• At hotels, pull back the sheets and inspect the mattress seams, particularly at the corners, for telltale stains or spots. If you see anything suspect, notify management and change rooms/establishments immediately.
• Thoroughly inspect the entire room before unpacking, including behind the headboard and in sofas/chairs. If any pests are spotted, change rooms/establishments immediately.
• If you do need to change rooms, be sure that you do not move to a room adjacent and/or directly above/below the suspected infestation. Bed bugs can easily hitchhike via housekeeping carts, luggage and even through wall sockets. If an infestation is spreading, it typically does so in the rooms closest to the origin.
• Consider placing your suitcase in a plastic trash bag or protective cover during the duration of your trip to ensure that bed bugs cannot take up residence there prior to departure.
• After traveling, inspect your suitcases before bringing them into the house. Vacuum your suitcase thoroughly before storing away. Consider using a garment hand steamer to steam your luggage, which will kill any bed bugs or eggs that may have hitched a ride home.
• Wash all of your clothes - even those that have not been worn - in hot water to ensure that any bed bugs that may have made it that far are not placed into your drawers/closet.
For more information click "How to Avoid Bedbugs While Traveling". Don't let your dream vacation turn into a nightmare. Bed bugs are a souvenir no one wants to bring home.
Source: National Pest Management Association