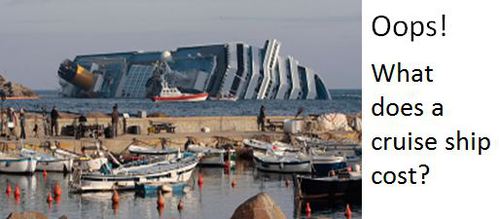 Ever wonder what a cruise ship costs? The grounding of the Carnival Corp. cruise ship Costa Concordia off the coast of Italy with more than 4,000 passengers and 1,100 crew aboard, may cost insurers more than 400 million euros (US $513 million) if the ship is a total loss according to David Pilla of A.M. Best Company. Carnival said its insurance coverage for the vessel included a $30 million deductible for damage to the vessel, plus a $10 million deductible for third-party personal injury liability.
The Cruise Critic reported on February 12, 2012 that seventeen bodies have been recovered from the wreck, and 15 people are still missing and presumed dead, including two Americans, retirees Gerald and Barbara Heil of Minnesota, and a 5-year-old girl . The accident occurred on the evening of Friday the 13th after the ship's captain, Francesco Schettino, deviated from the approved route to "salute" the Tuscan island of Giglo.
As compensation to survivors, Costa Crociere, which owns and operates the ship, is offering passengers who were onboard Costa Concordia when it struck a rock and capsized 11,000 euros each (about $14,500). The amount will cover "all patrimonial and non-patrimonial damages, including loss of baggage and personal effects, psychological distress and loss of enjoyment of the cruise vacation," said the statement. The lump sum extends to non-paying children as well, regardless of age.
Not all have accepted the offer of compensation as numerous tort lawsuits are being filed alleging negligence of the ship's captain. Liability claims may push the insured losses an additional US $500 million or more. In total, this cruise ship accident may cost more than US $1 Billion.
For additional updated information about the Concordia accident visit Cruise Critic.