Cyber security is becoming our nation's number-one threat according to FBI Director Robert S Meuller, III in comments made at the Cyber Security Conference in San Francisco. The following are excerpts from his comments made on March 1, 2012: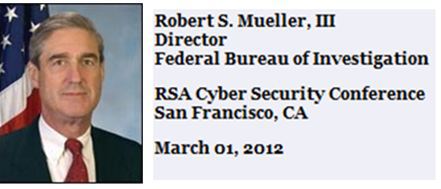 "Just as traditional crime has migrated online, so, too, has espionage. Hostile foreign nations seek our intellectual property and our trade secrets for military and competitive advantage.
State-sponsored hackers are patient and calculating. They have the time, the money, and the resources to burrow in, and to wait. They may come and go, conducting reconnaissance and exfiltrating bits of seemingly innocuous information—information that in the aggregate may be of high value. You may discover one breach, only to find that the real damage has been done at a much higher level.
Unlike state-sponsored intruders, hackers for profit do not seek information for political power—they seek information for sale to the highest bidder. These once-isolated hackers have joined forces to create criminal syndicates. Organized crime in cyber space offers a higher profit with a lower probability of being identified and prosecuted.
Unlike traditional crime families, these hackers may never meet, but they possess specialized skills in high demand. They exploit routine vulnerabilities. They move in quickly, make their money, and disappear. No company is immune, from the Fortune 500 corporation to the neighborhood "mom and pop" business.
We are also worried about trusted insiders who may be lured into selling secrets for monetary gain. Perimeter defense may not matter if the enemy is inside the gates.
The end result of these developments is that we are losing data. We are losing money. We are losing ideas and we are losing innovation. And as citizens, we are increasingly vulnerable to losing our information. Together we must find a way to stop the bleeding.
We in the FBI have built up a substantial expertise to address these threats, both here at home and abroad.
We have cyber squads in each of our 56 field offices, with more than 1,000 specially trained agents, analysts, and forensic specialists. Given the FBI's dual role in law enforcement and national security, we are uniquely positioned to collect the intelligence we need to take down criminal networks, prosecute those responsible, and protect our national security.
But we cannot confront cyber crime on our own.
Borders and boundaries pose no obstacles for hackers. But they continue to pose obstacles for global law enforcement, with conflicting laws, different priorities, and diverse criminal justice systems. With each passing day, the need for a collective approach—for true collaboration and timely information sharing—becomes more pressing.
The FBI has 63 legal attaché offices that cover the globe. Together with our international counterparts, we are sharing information and coordinating investigations. We have special agents embedded with police departments in Romania, Estonia, Ukraine, and the Netherlands, working to identify emerging trends and key players.
Here at home, the National Cyber Investigative Joint Task Force brings together 18 law enforcement, military, and intelligence agencies to stop current and predict future attacks. With our partners at DHS, CIA, NSA, and the Secret Service, we are targeting cyber threats facing our nation. The task force operates through Threat Focus Cells—specialized groups of agents, officers, and analysts that are focused on particular threats, such as botnets.
Together we are making progress.
Last April, with our private sector and law enforcement partners, the FBI dismantled the Coreflood botnet. This botnet infected an estimated two million computers with malware that enabled hackers to seize control of zombie computers to steal personal and financial information.
With court approval, the FBI seized domain names and re-routed the botnet to FBI-controlled servers. The servers directed the zombie computers to stop the Coreflood software, preventing potential harm to hundreds of thousands of users.
In another case, just a few months ago, we worked with NASA's Inspector General and our partners in Estonia, Denmark, Germany, and the Netherlands to shut down a criminal network operated by an Estonian company by the name of Rove Digital.
The investigation, called Operation Ghost Click, targeted a ring of criminals who manipulated Internet "click" advertising. They re-directed users to their own advertisements and generated more than $14 million in illegal fees. This "click" scheme impacted more than 100 countries and infected four million computers, half-a-million of which were here in the United States.
We seized and disabled computers, froze the defendants' bank accounts, and replaced rogue servers with legitimate ones to minimize service disruptions. With our Estonian partners, we arrested and charged six Estonian nationals for their participation in the scheme.
And again, we must continue to push forward together."
To read more click…Combating Threats in the Cyber World:
Source: Federal Bureau of Investigation, Recent Speeches: Combating Threats in the Cyber World: - March 1, 2012.