Corvettes...we love to look at them and thieves love to steal them! The Chevrolet Corvette holds the title as America's oldest, continuously produced sports car. According to a National Insurance Crime Bureau (NICB) study, during the 30-year period from 1981-2011, a total of 90,427 Corvettes were reported stolen in the United States and Puerto Rico. During that same period, a total of 862,918 Corvettes were produced in the United States – that's more than 1 in 10 stolen.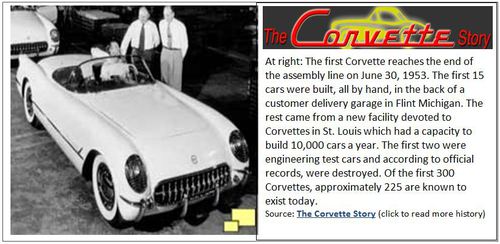 With the Corvette's history of sleek styles, speed, performance, and affordability, it's no surprise to find Corvette owners doting over their cars and keeping them in showroom condition. But like other items of high value and popular attraction, they get stolen.
AUTO THEFT PREVENTION:
Whether or not you own a classic 1963 split-window coupe or a 2012 Centennial Edition ZR1 Corvette, owners need to take steps to protect their vehicle from theft. Although vehicle thefts have been declining in recent years, if it happens to you it can be financially devastating and just an all-around hassle. NICB urges motorists to follow its "layered approach" to auto theft prevention. By employing these simple, low-cost suggestions, people can make their vehicles less attractive to thieves.
NICB, has been in the business of identifying and recovering stolen vehicles since 1912. Their expertise has been sought by law enforcement agencies all over the nation to assist with major auto theft investigations. Frequently, NICB recovers stolen vehicles that have long since been forgotten—except by their owners.
Anyone with information concerning vehicle theft and insurance fraud can report it anonymously by calling toll-free 1-800-TEL-NICB (1-800-835-6422), texting keyword "fraud" to TIP411 (847411) or by visiting our website at www.nicb.org. Or, iPhone or iPad users can download the NICB Fraud Tips app to make it easy to quickly send a tip and get a response.
Source: NICB, News Release – Hot Wheels Classics: Chevrolet Corvette, May 14, 2012