Which personal property items were the top insurance claims in 2011? Jewelry losses were the big ticket items in value and volume for property insurance claims made in 2011 according to Enservio's annual Contents Claims Index (CCI). Claims for jewelry items rose from 13% among the top ten contents-loss categories in 2010 to 17% for Replacement Cost Value (RCV) in 2011, taking the top spot as the most claimed loss-item in 2011. Simultaneously, electronics dropped to the number two position, decreasing from 15% in 2010 to 13% RCV in 2011. These are a sampling of the top findings of the annual CCI announced today by Enservio.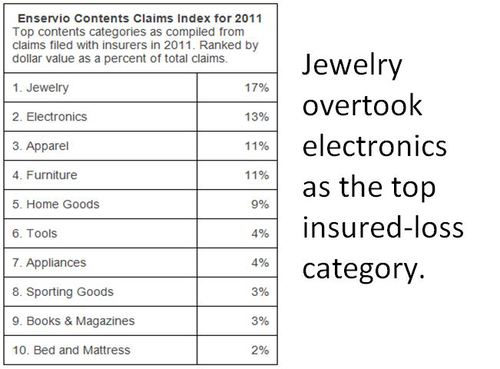 The 2011 Enservio CCI also revealed the following contents-claims trends: Regional Trends
Jewelry claims are more prevalent on the West Coast of the U.S.
Claims for electronics are more prevalent in the South
Claims for tools are more prevalent in the Midwest
Furniture claims are more prevalent in the East
The Enservio CCI aggregates and analyzes contents claims reported by over 300 U.S. property insurers, providing valuable insights into contents claims trends on more than 20 million individually appraised personal and business items claimed by insured as lost, damaged or stolen. The index consists of more than 2,000 categories and subcategories of millions of personal and business items – with thousands of new line item descriptions added every week. Enservio (www.enservio.com), is the nation's leading provider of contents inventory creation, valuation and replacement services and software.
Source: Enservio, News Release – May 22, 2012 "Enservio's Annual Contents Claims Index 2011"