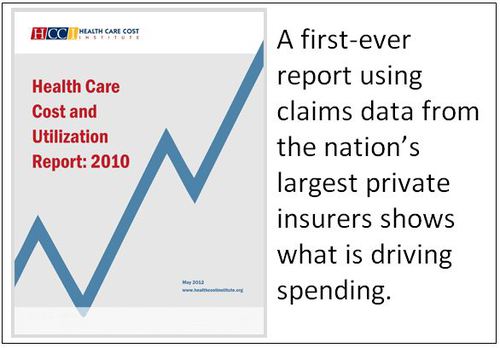 The newly formed Health Care Cost Institute (HCCI) compared data from 2009 to 2010 showing that pure price increases for care rather than increased utilization is driving spending higher. In fact, the number of hospital inpatient admissions declined (-3.3%) and use of outpatient facilities also declined (-3.1%) in 2010. But higher prices charged for doctor visits, surgery and drugs pushed overall spending higher by 3.3%.
"For the first time we have comprehensive data on the privately insured. This lets us develop a clearer picture of what is truly driving health care spending in the United States," says HCCI Governing Board Chairman Martin Gaynor, PhD, E.J. Barone Professor of Economics and Health Policy at Carnegie Mellon University. "Health care spending is a critical problem—it's not an exaggeration to say that if we solve the health care spending problem we solve our fiscal problems."
Highlights of the report:
Cost Sharing. Out-of-pocket per capita spending increased 7.1 percent in 2010 to $689. Cost sharing rates between payers and beneficiaries remained relatively stable, with beneficiaries contributing 16.2 percent of average per capita spending.
Inpatient-Outpatient Facility Trends. The average facility price paid for a hospital stay was $14,662 in 2010, a 5.1 percent increase over 2009. The price for an emergency room visit climbed to $1,327 in 2010, an 11 percent hike. The average out-of-pocket price of a hospital stay rose 10.7 percent from $632 in 2009 to $700 in 2010.
Prescription Drugs. Prescription drug prices grew on 3 percent overall from an average of $80 per prescription in 2009 to $82 in 2010. However, brand name drug prices increased 13 percent from 2009 to 2010, while generic drug prices decreased by 6.3 percent.
Professional Services. The overall price of professional procedures that include doctor visits, lab tests, and diagnostic imaging, increased 2.6 percent. Payments for office visits—to both primary care and specialist providers—grew by more than 5 percent.
Utilization Trends. Overall use of health care services declined in 2010. Usage dropped by more than 5 percent for medical inpatient admissions, emergency room visits, primary care provider office visits, and radiology procedures. On average, each insured person filled more than nine prescriptions in 2010. The number of brand name prescriptions dropped by nearly 4 percent, while the number of generic prescriptions increased by 2.5 percent.
Read more in the HCCI 2010 Health Care Cost and Utilization Report.
Source: HCCI, Press Release – May 21, 2012