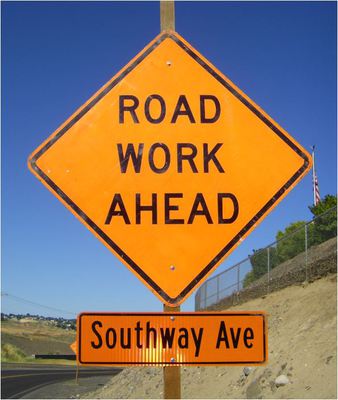 Intersection closure this weekend. The roundabout construction project at Southway / Snake River Ave intersection is having the second and last scheduled closing this weekend. We will keep you informed on construction progress to minimize any inconvenience when you need to visit our office at 55 Southway Ave. Construction will last through November 2013.
HERE'S WHAT YOU NEED TO KNOW NOW:
(click on links for more info)
JUNE 28th WEEKEND INTERSECTION CLOSING - This weekend beginning Friday, June 28th at 8 PM through Monday, July

1st

at 6 AM the intersection will be totally closed.
DETOURS - Plan to use two main detour paths when necessary. Basically you will need to find your way on and off the Bryden Canyon road by using the 8th St access to get to or from destinations blocked by the closed intersection. Heading west to Clarkston locations you will want use the Southway Bridge and travel through Clarkston.
THREE-WAY STOP - The traffic signal has been removed and replaced with a three-way stop sign during construction. The only way through the intersection will be through the three-way stop.

PROSPECT AVENUE between 19th Ave and Southway Ave is now closed for the duration of construction. Ultimately, Prospect Ave will be permanently closed and provide no access to Southway or Snake River Ave.
LEVY TRAIL SYSTEM - Access to the levy trail system at Southway will be closed at 1st Street. You will not have access to the levy trail from the Southway trail. The levy trail that runs along Snake River Avenue will remain open during construction.
OVERNIGHT CLOSURES - At times during construction, the intersection will be closed to all traffic overnight as allowed. This means from 8:00 p.m. to 6:00 a.m.
You can follow construction updates and closures on the City of Lewiston website: public works projects page – Southway/Snake River Ave.
VISITING AMERICAN INSURANCE - There will be access to our Lewiston office at all times during construction – but getting here might prove challenging sometimes. When the intersection is closed or impaired the best access will be approaching from the east side driving down Southway Ave west toward Snake River Ave. When approaching us from the west side and traveling east through the intersection up Southway Ave we would recommend you enter the Southway Plaza by using the east entrance (closest to Zip Trip). You then drive through the parking lot to our office.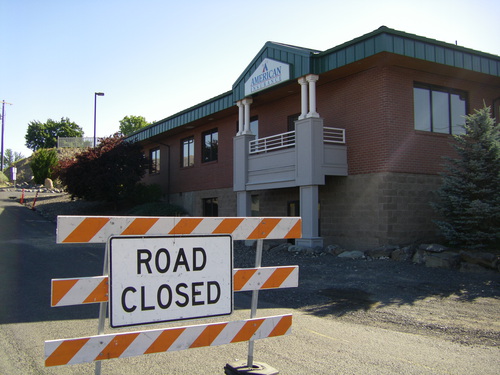 SERVICE OPTIONS – We love to see you but you have other service options available to you rather than an inconvenient personal visit. Just call us 208-746-9646 and we can handle most service requests - payments by check or credit card by phone, report claims, make policy changes and more. Just call or visit us on-line at www.Am-Ins.com and select the Service Center.
Source: City of Lewiston