Insurance claims resulting from hailstorm damage increased 84 percent in 2012 from their 2010 level according to a National Insurance Crime Bureau (NICB) report. See top 5 states for hail damage below.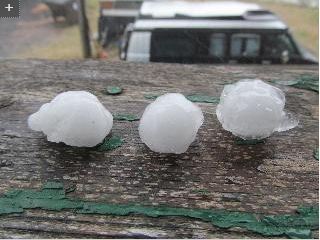 In 2010, there were 467,602 hail damage claims filed. That number increased to 689,267 in 2011 and to 861,597 in 2012—an overall increase of 84 percent from 2010 to 2012.
The nation has experienced severe storms (wind, tornado, hail) that are occurring with more intensity and affecting more areas of the country. While scientists debate why these storms occur, no one argues with their effects—extensive property damage and, many times, loss of life. The property damage can be as minimal as a few broken shingles to total destruction of buildings. The NICB report focuses just on insurance claims resulting from hail damage.
TOP FIVE STATES FOR HAIL DAMAGE CLAIMS
Over 2 million hail damage claims were processed from Jan. 1, 2010, to Dec. 31, 2012. During this period, the top five states generating hail damage claims were Texas (320,823); Missouri (138,857); Kansas (126,490); Colorado (118,118) and Oklahoma (114,168). The claims activity follows the hailstorm activity as posted on the National Weather Service's Storm Prediction Center. In 2010, 2011 and 2012, Texas was the state with the most hailstorm events with 557, 741 and 795, respectively.
See the complete NICB hail damage claims report and background data. See a video of a new test facility that is helping to educate investigators on how to spot fraudulent hail claims, as well as aiding engineers in the design of storm-resistant buildings and materials.
Source: National insurance Crime Bureau