The Health Exchange Marketplace opened on October 1st and has experienced serious technical problems ever since. In the meantime, the Individual Mandate of the Affordable Care Act (ACA) still takes effect in 2014. There is news reporting today that says the White House may delay the deadline for signing up by 6 weeks until March 31, 2014.
We are trying the Exchange system every day and will let you know when things are finally working. We have four health agents that are certified for the Idaho and Washington Exchange Marketplaces ready to help you.
Not just the uninsured need to get quotes from the new Health Insurance Exchange Marketplaces. Even if you are covered now by an individual plan you may lower your premium substantially with a new Exchange plan.
Click and find out more in these articles…
Who Needs Health Exchange Quotations?Almost everyone needs to take a serious look at their own state's Health Exchange Marketplace before January 1st - not just the uninsured!
Only Agents Can Explain Exchange Plans
The Idaho and Washington State Health Exchanges including their navigators (online and phone assistants) will not explain or recommend any insurance plans offered in the exchanges.
The YouToons Get Ready for Obamacare
Health Insurance Changes Coming Your Way Under the Affordable Care Act – the Kaiser Foundation
ACA Employer Mandate Delayed Until 2015The penalties imposed by the Affordable Care Act (ACA) on large employers (50+ employees) has been delayed one year…
Questions? We are following Heath Care Reform closely and are ready to help you plan for the future. Call on us to review your health insurance needs.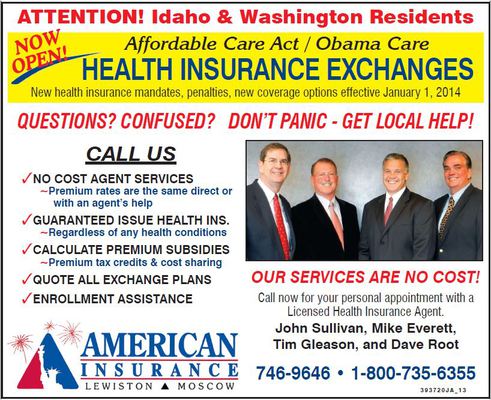 We represent Regence BlueShield of Idaho, Blue Cross of Idaho, LifeWise, Premera and other top health insurance companies for Group, Individual & Medi-gap plans. Contact us for quotations and more information (208)746-9646.