The Idaho and Washington State Health Exchanges including their navigators (online and phone assistants) will not explain or recommend any insurance plans offered in the exchanges. They feel that experienced and licensed health agents are the only ones who have the training and experience to talk about the insurance coverages and recommend plans.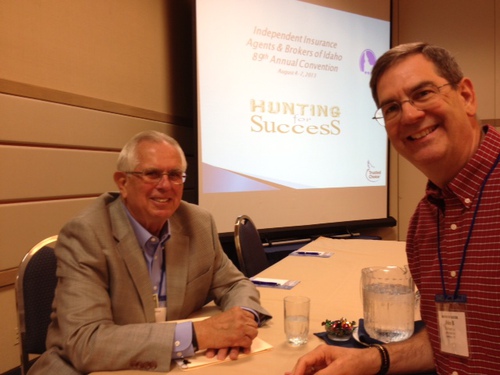 Idaho Insurance Commissioner, Bill Deal (L) talks with John Sullivan, President of AMERICAN INSURANCE at the IIAB annual meeting. Commissioner Deal told agents that the Idaho Exchange is expecting agents to be the primary method of helping residents secure medical insurance advice and coverage in Idaho.
Both Idaho and Washington Exchanges are counting on medical insurance agents that are registered with CMS and have completed Marketplace-specific training to help the public understand their insurance options. These agents are authorized to assist individuals in accessing the Exchange Marketplaces to:
Determine eligibility for a Qualified Health Plan
Refer Medicaid and Children's Health Insurance Programs (CHIP) for assistance
Determine premium tax credits and cost-sharing reductions
Facilitate Exchange registration
Quote all Exchange health plans
Explain and recommend Exchange plan coverage
Enroll individuals in a Qualified Health Plan of their choosing
Also, agents can be trusted with the sensitive personal information required for enrollment. They are licensed, regulated and have the processes in place to guard the private information of their clients.