"Idaho's success in enrolling consumers during the 2014 enrollment period is due, in no small part, to the many Idaho insurance agents and brokers who provided invaluable assistance to Idaho citizens," said William (Bill) Deal, Director of the Idaho Department of Insurance (DOI). Idaho had the 2nd highest individual ACA enrollment per capita in the US according to figures released in the Department of Health and Human Services (HHS) March Enrollment Report.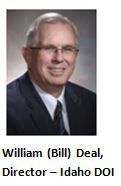 Director Deal strongly urges HHS that non-insurance licensed Navigators and other assistance personnel be prohibited from providing "advice" concerning which health plan they should select. Specific recommendations or advice on plan selection, when requested by a customer, should be limited to licensed insurance agents and brokers. States or exchanges conducting their own training and certification process for navigators and other assistance personnel must have the flexibility to stipulate that these individuals will refer consumers to a licensed insurance agents or brokers.
"Idaho opposes any rule changes that would tend to undermine the successful engagement by and assistance from Idaho's agent and broker community in supporting our State-based Exchange, Your Health Idaho", said Deal. Director Deal's remarks were made as part of his letter to HHS on April 18, 2014 to provide comments on the proposed regulations on PPACA: Exchange and Insurance Market Standards for 2015 and Beyond.