American Insurance of Lewiston and Moscow is one of only 200 independent insurance agencies in the USA that has earned the President's Award from Safeco Insurance® for outstanding performance.
The President's Award honors top-performing independent insurance agencies that sell Safeco Insurance® personal lines products.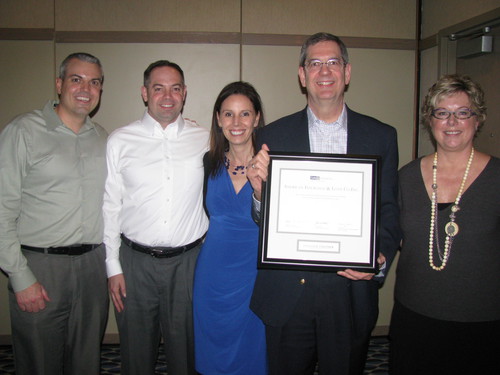 (L to R) Andy Thorp, Safeco Agency Specialist; Shawn Sullivan, AI-VP; Amy Avery, Safeco Territory Mgr; John Sullivan, AI-President and Becky Fann, Safeco VP & NW Region Gen Mgr
"The President's Award is one of the highest honors Safeco gives to our independent agent partners to recognize and celebrate their success with Safeco," said Matthew Nickerson, president, Safeco Insurance. "We're pleased to honor the hard work, commitment to service and high achievement of the Sullivans and staff at American Insurance."
To be considered for the President's Award, agencies must be members of the elite Safeco® Premier Partner Program, which gives agencies who meet high standards with access to special programs designed to help them continue to grow their business and provide superior service to their customers.
"We are thrilled to be recognized by Safeco for our partnership and performance," said John B. Sullivan, President of American Insurance. "It's a result of the consistent dedication of our employees to earn and keep the trust of our customers."
American Insurance has two Idaho locations, Lewiston and Moscow, and has 19 local employees.
About American Insurance
Founded in 1922, American Insurance is a fourth-generation Independent insurance agency that is owned and actively operated by the Sullivan family. The Agency represents America's leading insurance companies and writes thousands of policies of every type and kind of insurance in seven western states. For more information about American Insurance, go to: www.americaninsuranceid.com/about
About Safeco Insurance
In business since 1923 and based in Boston, Mass., Safeco Insurance sells personal automobile, homeowners and specialty products through a network of more than 10,000 independent insurance agencies throughout the United States. Safeco is a Liberty Mutual Insurance company.
Boston-based Liberty Mutual Insurance is a diversified global insurer and the third largest property and casualty insurer in the U.S. based on 2013 direct premiums written as reported by the National Association of Insurance Commissioners. Liberty Mutual Insurance also ranks 81st on the Fortune 100 list of largest U.S. corporations, based on 2012 revenue.
Source: Safeco Insurance, News Release – May 6, 2014