Safeco Insurance introduced an innovative Wildfire Defense Program to help protect policyholder properties threatened by active wildfires.
A recent fire in Washington state, called the Carlton Complex fire, and another near Bend, Oregon, provide two examples of how the program is preventing devastating losses and providing customers peace of mind.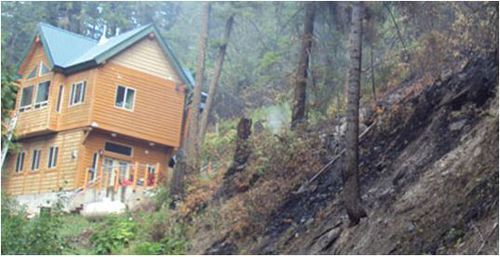 Saving a labor of love - It took Brien Harrison and his brother more than a decade to build his cabin in Washington's Methow Valley. Situated on 14 acres near a tranquil, winding river, the log cabin is handcrafted using trees harvested from the property. "It's a labor of love," says Harrison. "Total craftsmanship."
On July 14, 2014, news reports began buzzing with details of four fires in the valley that merged into one large blaze called the Carlton Complex fire. Harrison followed the fire's progress from the Seattle area where he lives and works, and on July 16, he received a call from Safeco's Claims Service Center about enrolling in the Wildfire Defense Program. "They told me the fire had jumped the Methow River and was a mile and a half from my property," recalls Harrison."The winds picked up to such a degree that it moved across whole acres in seconds. I knew that even if I jumped in my truck and drove there, I would not get there in time."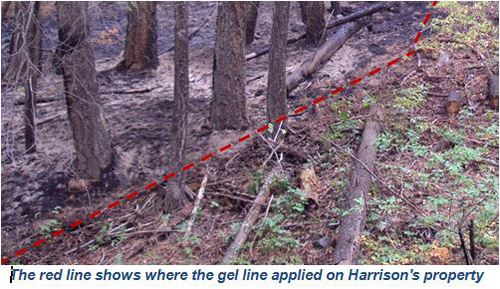 Harrison's cabin in Washington's Methow Valley - Harrison, a client Safeco client, enrolled in the program and crews visited his property that same day. Firefighters dug trenches around the cabin and the generator, and as the fire raged and crept closer over a two-day period, crews applied fire-blocking gel to the structure and the ground surrounding it. Harrison estimates that 12 of his 14 acres burned but his cabin and a barn were saved.
The Wildfire Defense Program is offered as a free value-added service to Safeco® customers with homeowners or Landlord Protection® policies in designated high-risk wildfire locations.
For more information on protecting your rural property contact AMERICAN INSURANCE, agents for Safeco Insurance.
Note: Due to the unpredictable nature of wildfire, limitations of resources, safety considerations and instructions from federal, state and local fire officials there may be instances in which Safeco and Wildfire Defense Systems may not be able to provide these services. Safeco Insurance and its representatives will use commercially reasonable efforts to provide these services. If services are provided, there is no guarantee that these services will prevent damage.
Source: Safeco Insurance Co, News Release - October 21, 2014