Bashore Insurance Transfers Grange Policies to American Insurance
Bashore Insurance Agency of Clarkston has announced that American Insurance of Lewiston and Moscow has been selected as service agents for Grange policyholders previously serviced by Bashore. Effective December 1, 2014, Tony Bashore, owner of Bashore Insurance Agency, will focus entirely on his Crop Insurance business and is transferring his Grange Insurance Association policyholders to American Insurance, which is currently an experienced Grange representative and very familiar with the policies and service requirements of Grange.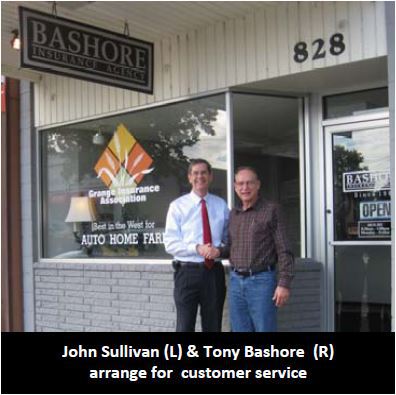 Bashore said, "I have represented Grange for over 34 years and I can attest to the fact that they are one of the best companies in the marketplace. I also feel very confident that the Sullivans and their staff at American Insurance will provide excellent service to Grange policyholders. My current phone number and office location at 828-th St in Clarkston will remain open to continue my Crop Insurance business activities."
"We are honored", said John Sullivan, President of American Insurance, "to be selected by Tony Bashore and the Grange to provide ongoing service for their common policyholders. We appreciate their trust and confidence in us. My entire staff is looking forward to working closely with Grange policyholders and provide the personal service they expect and deserve."
American Insurance was founded in 1922 and is a fourth-generation independent insurance agency that is owned and actively operated by the Sullivan family. The agency sells and services all lines of insurance in seven western states – auto, home, business, farm, workers compensation, bonds, medical and life insurance. They have 19 full-time employees working in Lewiston and Moscow who provide insurance and risk management services to over 13,000 local policyholders. Learn more at www.Am-Ins.com.
Grange Insurance Association, Seattle, WA is a mutual insurance company serving the insurance needs of individuals and farm families. Founded in 1894 and deeply rooted in agricultural communities across the west, Grange Insurance Association has expanded in recent decades to better serve you. The company offers competitive auto, home and other personal insurance policies along with extensive underwriting experience in farm insurance. Learn more at www.grange.com.
Source: News Release, December 1, 2014