The Washington Health Benefit Exchange, a state-based health marketplace, announced a spring "Special Enrollment Opportunity" for Washington residents who want to avoid tax penalty for 2015.
Nearly 160,000 Washington residents enrolled in a Qualified Health Plan through www.wahealthplanfinder.org by the close of open enrollment on Feb. 15. Due to a high volume of requests, the Exchange announced a special enrollment opportunity for residents who were unable to complete their applications by the Feb. 15 deadline or who may become aware of the tax penalty for not having health insurance under the Affordable Care Act when they file their annual tax return this year.
Special Enrollment Period runs until April 17, 2015.
Those who aren't covered in 2015 will face a penalty next year through the Internal Revenue Service of $325 per individual or up to 2 percent of your income, whichever is greater. Washingtonians who would like to enroll in 2015 coverage can contact AMERICAN INSURANCE for no cost assistance from an exchange certified health insurance agent, or contact the wahealthplanfinder.org before April 17, 2015.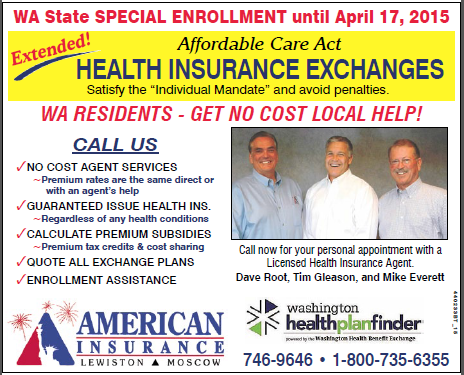 Contact Us at AMERICAN INSURANCE for advice and a personal appointment.
For Customers Who Were Unaware of the Tax Penalty: you may apply on your own by completing an online application at wahealthplanfinder.org. When prompted to select the type of special enrollment you are applying for, select "other." Customers will then be asked to contact the toll-free Customer Support Center to request a special enrollment at 1-855-923-4633.
For Existing Customers with Technical Issues: Customers are eligible if they have already started an application and experienced barriers to enrollment and renewal due to system delays or technical defects in Washington Healthplanfinder, an inability to submit an application because their income could not be verified, or unclear instructions regarding the necessary steps for 2015 enrollment. While staff will continue to contact affected customers directly, customers can also call 1-855-923-4633 or email customersupport [at] wahbexchange [dot] org to request a special enrollment or report their situation.
Customers must request the spring special enrollment period by 4:59 PM on April 17 and pick a Qualified Health Plan and submit a payment by 11:59 PM on April 17 to secure 2015 coverage. For more information about the spring special enrollment opportunity, please click here for detailed frequently asked questions. As a reminder, customers with standard qualifying life events, such as getting married or having a baby, may contact AMERICAN INSURANCE or may complete their online application per the standard special enrollment process.
Source: Washington Health Benefit Exchange, News Release – Feb 16, 2015