The cost of homeowners insurance claims has been increasing at twice the rate of inflation. This is according to a new report from the Insurance Research Council (IRC). Despite significant declines in recent years, the average claim payment per insured home* countrywide rose from $229 in 1997 to $625 in 2011, before falling to $442 in 2013. Average claim payments per insured home have increased at an average annualized rate of 5.0 percent since 1997. During the same period, inflation average approximately 2.4 percent.
"This report effects every homeowner in the pocketbook", said John Sullivan, President of AMERICAN INSURANCE. "Insurance companies are struggling with rapid growth in claim severity and extreme volatility trends. Consumers face rising premiums and must consider steps to reduce their risks of loss."
HOMEOWNERS INSURANCE PREMIUMS RISING:
Idaho had the lowest homeowners insurance premiums in 2012, averaging $538 per year but have been rising. Nationally, the average homeowners insurance premium rose by 5.7 percent in 2012, following a 7.6 percent increase in 2011, according to a January 2015 study by the National Association of Insurance Commissioners. The average renters insurance premium was unchanged in 2012, after rising 1.1 percent the previous year. Florida had the highest average homeowners insurance premium in 2012 ($2,084). The countrywide average homeowners insurance premium was $1,034 in 2012. (Source: Insurance Information Institute).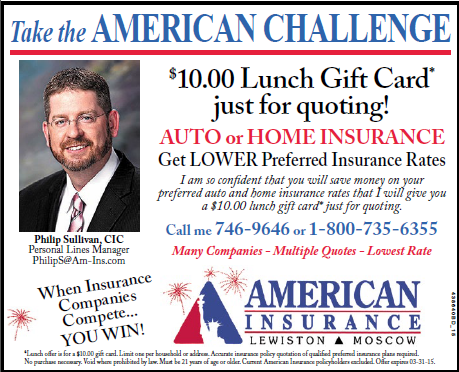 COST DRIVERS OF HOMEOWNERS PROPERTY CLAIMS:
Property damage – 97% of claims were the result of property damage in 2013. Of those claims, 86.8% were from fire, lightening, wind, hail, water damage and freezing. (Source: ISO)
Severe weather events – 35% of total claim costs are attributable to catastrophic events. Although a homeowner can't control the weather, they can select materials like heavier asphalt shingles and other sturdier building supplies and construction methods appropriate to the weather challenges where they are located.
Building material inflation – building materials have skyrocketed in cost over the last 10 years adding significantly to the cost of repairs.
Larger homes - the average new home has more square footage so losses cover more area that needs to be repaired.
In the study, Trends in Homeowners Insurance Claims, 2015 Edition, the IRC examined the frequency of claims and the average cost (severity) of claims paid by homeowners insurance companies. All of the increase in average costs per insured home was due to growth in average claim severity, which increased at an annualized rate of 7.8 percent over the 17-year study period—more than three times the rate of inflation. The rise in claim severity more than offset a 2.6 percent annualized decrease in claim frequency documented in the report.
* Insured home means insured house, apartment, or condominium.
Source: Insurance Research Council, News Release – February 19, 2015, Trends in Homeowners Insurance Claims