Bedeviled by sagging bank accounts and burdensome mortgages, some cash-strapped building owners try to burn their way out of debt. Lighting up spilled gasoline or interior gas lines seems like an easy gambit. One flick of a match ... problem solved.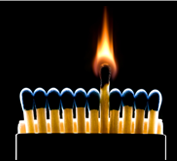 Except that these are amateur arsonists and screw-ups. Natural gas and gasoline are volatile. When lit, they can ignite with more force than TNT. Instead of obediently burning down, buildings can explode with unforeseen impact.
Read about five arsonists and their incredible stupidity leading to unimaginable destruction, millions of dollars of unintended property loss, death, and decades in jail terms. Click on Fraud of the Month: March 2015 reported by The Coalition Against Insurance Fraud.