For our 30th year, AMERICAN INSURANCE invites you to join us in Adams Field at Clarkston High School for the Independence Day Fireworks Celebration.

You are invited to Adam's Field at Clarkston High School. There is no admission (donations welcome) and the gates open at 6pm.
Enjoy dinner, treats and cold beverages at the concessions. Live music by "The Working Poor" begins at 7:30pm. Bring the whole family, your lawn chairs & blankets and relax until the aerial fireworks show begins promptly at 10pm.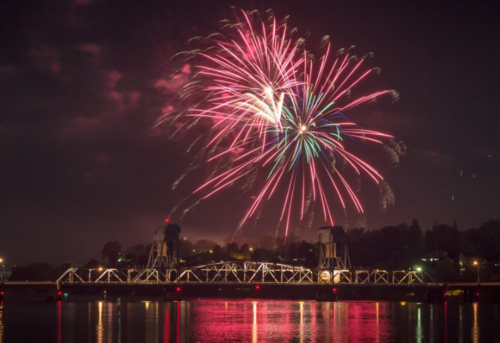 COMMUNITY SPIRIT FIREWORKS OVER THE INTERSTATE BRIDGE Photo courtesy of Brad Stenson
You will have the best seats in the valley to see our spectacular aerial fireworks display at 10pm. Please join us for this American family tradition.

America has been a special light of freedom and independence for 239 years. Independence Day celebrations serve as a reminder to every generation of the sacrifices still being made for the cause of freedom here and around the world. The Sullivan's and staff at AMERICAN INSURANCE appreciate those who have served or are serving in our military and those who serve us as our police, fire and emergency services. We are committed to keeping our local celebration alive for the enjoyment of the entire valley.
John B Sullivan, President
AMERICAN INSURANCE