We might think that our local individual health insurance premium increases are hard to swallow, but things could always be worse.
In an article published in the Wall Street Journal, many states have premium increases of 30% or even 50%.
Idaho lucks out with Colorado and Florida at almost 20% increases, while some plans are even decreasing in their costs.In Washington, silver plans will increase less than four percent. During 2016 open enrollment, more than 56 percent of all Qualified Health Plan customers in Washington enrolled in a silver-level plan.
"While other states have seen dramatic reductions in carriers participating on their health insurance exchanges, the good news for Idaho is that we continue to have robust choice Idaho," said Idaho Department of Insurance Director Dean Cameron.
As an independent agency, AMERICAN INSURANCE can write coverage through several companies, allowing us to quote competitors to give our clients the best rates – no matter whether they use an individual or group coverage option.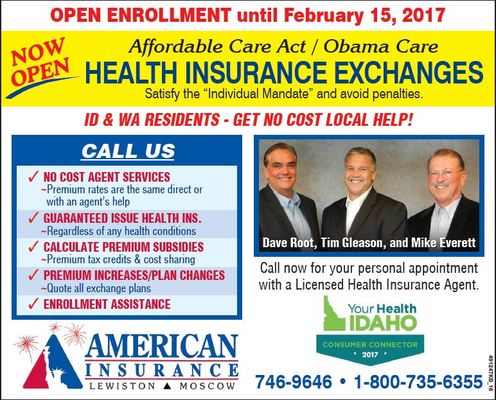 "Our Certified Health Agents can review options for deductible amounts, premiums and tax subsidies each company with our clients," said John B. Sullivan, AMERICAN INSURANCE President. "Whether a business owner needs a group health policy for many employees, or a single parent needs coverage for a family, or a single adult needs a policy to avoid federal penalties, we can get that coverage for you."
Carriers propose rates based on claims experience, premiums, network provider agreements, administrative and other costs.
After review of the proposed rates and justifications, most carriers agreed to reduce their revised request. The Idaho Department of Insurance could not find the final rate increases to be unreasonable.
"These network size reductions are the best way the industry has found to reduce costs on our insureds, which is unfortunate but also a better alternative to continuous and even higher price increases," Sullivan concluded.
You may contact our certified health agents, Dave Root, Tim Gleason or Mike Everett at (208) 746-9646, email Medical [at] Am-Ins [dot] com for more information about individual or group health insurance, or click Contact Us to make an appointment.