For 32 years AMERICAN INSURANCE has been a major financial sponsor of the Lewis-Clark valley's Independence Day Fireworks Celebration on July 4th.
John Sullivan, agency President, is involved in every aspect of the celebration. He has served on the board of directors of the non-profit organization, Community Spirit, since 1990 to personally help plan, organize, raise funds, set up, and take down the fireworks show each year.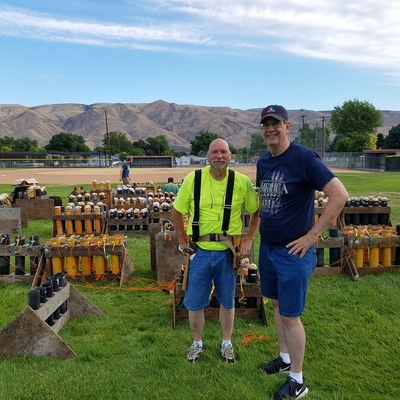 Pyrotech Jeff Cassali is shown with John Sullivan as they set up fireworks.
"I love this celebration for many reasons," John said. "No matter what your political views, Independence Day brings everyone together on one special day to celebrate what it means to be an American. Ha! For 364 days we can argue over what that actually means; but on this one day each year, we are reminded that we have more in common than what may separate us.
"Also, our Independence Day tradition builds patriotism. It provides a focus to talk to our children and remind ourselves about our American heritage and values - democracy, liberty, individual rights and responsibilities; the rule of law, equal rights and justice; equal opportunity; the rewards of initiative and hard work. But, more than anything, I just love seeing families come together for a day of fun, relaxation, and celebration."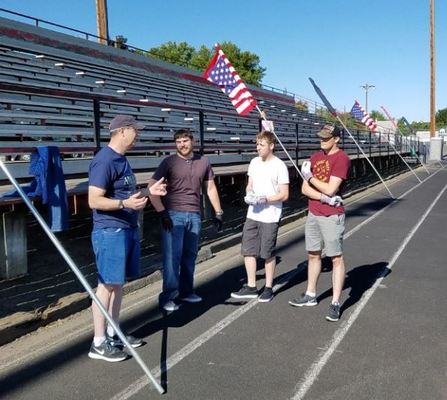 John Sullivan instructs volunteers on flag setup before the 2016 show.
You are invited. Please join the Sullivans & staff at Adams Field in Clarkston on July 4th for the Independence Day Fireworks Celebration. Bring your lawn chairs and blankets, enjoy live music, eat food and goodies, and watch the amazing, big aerial fireworks display up close. We look forward to seeing you there! (See more details below.)
Make it a family affair! The crowd of about 3,000 gathers inside Adams Field at Clarkston High School to enjoy live entertainment, concessions of food, drinks, and ice cream, and the big aerial fireworks display at 10 p.m. The fireworks show is a family affair for the Sullivans.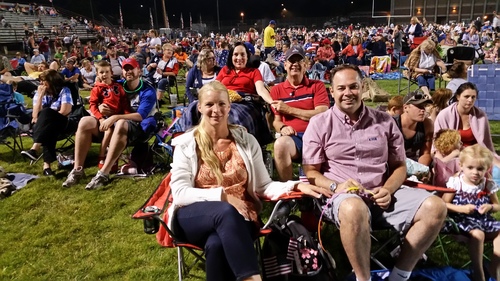 Sullivan family members attending the 2016 show pictured here are (from left) Philip & son, Max Sullivan (back row), John & Pamela Sullivan (back row), and Kim and Shawn Sullivan, and their daughter, Etta Sullivan (front row).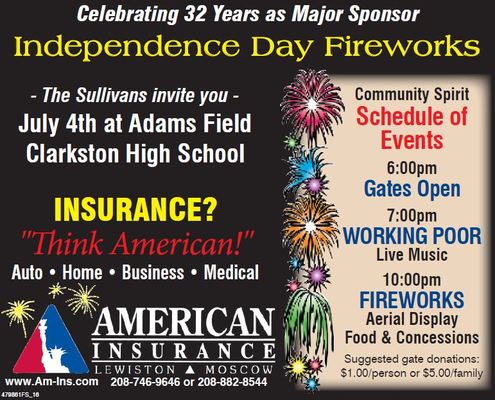 Like the "Community Spirit" Facebook page here to stay in touch with all the latest on this event.

More related articles: