Idaho Department of Insurance releases 2018 health insurance rates, proposed increases, and participation areas.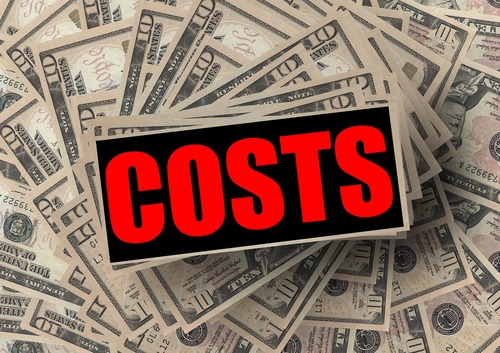 Proposed rate increases in 2018 for Your Health Idaho exchange plans range from a modest 6% for the Blue Cross of Idaho Bronze health plan up to 51% increase for the Regence BlueShield of Idaho Bronze and Silver plans.
The Idaho Department of Insurance has posted proposed health insurance premium rates and the requested increases from participating Health Insurance Companies for plan year 2018. Health insurance companies have submitted their rating information including justifications as well as rating areas. The Department will continue to review the insurance carriers' submissions. (see chart below)
The Department's only authority is to determine the rates "unreasonable" if the requests do not meet the justification. In past years, the Department has successfully negotiated lower rate increases with carriers to avoid labeling them "unreasonable." Final rates will be publicly available by mid-September or early October.
"I am deeply disappointed and frustrated to share these rates," said Department Director Dean Cameron. "I understand how difficult it will be for Idahoans to afford reasonable coverage, especially those without a subsidy."
The Department encourages consumers to carefully review all of their options with a licensed insurance agent whether purchasing coverage on or off the exchange (Your Health Idaho) once the final rates are published.
AMERICAN INSURANCE, as an independent agency, can write coverage through several companies, allowing us to quote competitors to give our clients the best rate options – no matter whether they need individual or group health coverage.
"Our Certified Health Agents can review options for deductible amounts, premiums and tax subsidies for each company with our clients," said John B. Sullivan, AMERICAN INSURANCE President.
AMERICAN INSURANCE offers two exchange certified and licensed health insurance agents. "Our clients have many options available, whether they want to stay with their current company or look at alternative coverage options," Sullivan added. "We will quote and can write for many companies – both inside and outside the Exchanges – including Blue Cross of Idaho and Regence BlueShield of Idaho for our Idaho clients, or Premera Blue Cross and LifeWise for our Washington clients."
You may contact our certified health agents, Dave Root or Tim Gleason, at (208) 746-9646 or at Medical [at] Am-Ins [dot] com for more information about individual or group health insurance.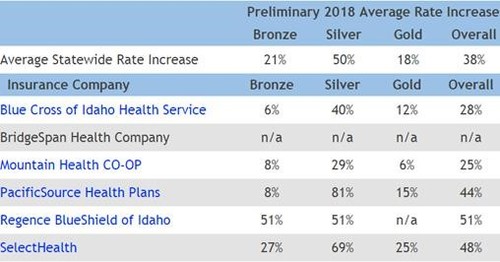 For proposed 2018 rates in each section of Idaho, find the map online here. Note: The NC region (for North Central Idaho) includes Clearwater, Idaho, Latah, Lewis, Nez Perce counties.
BridgeSpan Health Company is not participating in the health exchange in 2018.
Silver level plan rate increases
The proposed increases for Silver level plans on the exchange are significantly higher this year, even more than the increases for Bronze or Gold level plans, due to the potential refusal by the federal government to fund the Cost Share Reduction (CSR) mechanism. The CSR requires insurance carriers selling plans through Your Health Idaho to lower deductibles and out-of-pocket maximums on Silver plans for enrollees who earn below 250% of the federal poverty level.
"I call on Congress to either repeal the CSR requirement or fund the program," said Director Dean Cameron. "That action alone would reduce the proposed increase by at least 20% on the Silver plans."
The premium requests for the Silver level plans reflect the cost of the CSR benefits since the carrier is still obligated to provide the benefits regardless of whether or not the program is funded at the federal level.
The proposed increases to Silver plan premiums would also result in an increase in advanced premium tax credits (APTC) for those eligible and purchasing coverage through Your Health Idaho. Individuals who are not currently receiving APTC are reminded to check for eligibility again this year.
"Ironically, Congress may spend more of our federal tax dollars through higher APTC's than if they funded the CSR mechanism," said Director Cameron.
The Department recommends that all individuals work with a licensed insurance agent to choose the best plan based on their needs.
Department of Insurance seeks comments and assistance from the public
"The proposed rate increases demonstrate the need for changes to the federal law. Idaho's congressional delegation has been responsive and responsible, but we must help them deliver the message to their colleagues," said Cameron. "If congress is unable to repeal or replace, I ask that they do the following three things at a minimum to stabilize the market and reduce rates:
Fund or repeal the CSR mechanism (estimated savings of 20%)
Fund High Risk Reinsurance Pools, similar to proposals in both bodies of Congress (estimated savings of 10% to 20%)
Allow true consumer choice of plans, similar to the Cruz amendment, either on or off exchange (estimated savings of 20% to 50% compared to ACA plans)
"The Department and I will continue to work on ideas to reduce costs. We invite the public to comment, ask questions, or share ideas."
Comments, questions, or ideas can be submitted electronically or mailed to the following: 2018 Rate Comments, c/o Idaho Department of Insurance, PO Box 83720, Boise, ID 83720-0043, ratecomments [at] doi [dot] idaho [dot] gov.
For questions about this or other insurance-related topics, contact the Idaho Department of Insurance by visiting www.doi.idaho.gov or by calling 334-4250 in the Boise area or 800-721-3272 toll-free statewide.
Source: Idaho Department of Insurance, News Release – July 31, 2017,Idaho Department of Insurance releases requested 2018 health insurance rates, proposed increases, and participation areas.

You may contact our certified health agents, Dave Root or Tim Gleason, at (208) 746-9646 or at Medical [at] Am-Ins [dot] com for more information about individual or group health insurance.