YOU MADE IT HAPPEN!
Our thanks to all who "liked" and "shared" the Safeco Make More Happen post to benefit our Community Action Partnership (CAP) Food Banks. Safeco offered to double the original grant through a social media campaign to help bring more awareness to the good work and needs of our local food banks. You responded with more than 200 "likes" and "comments" and "shares" that secured the additional $5,000 award for a total grant of $10,000 to the CAP Food Banks.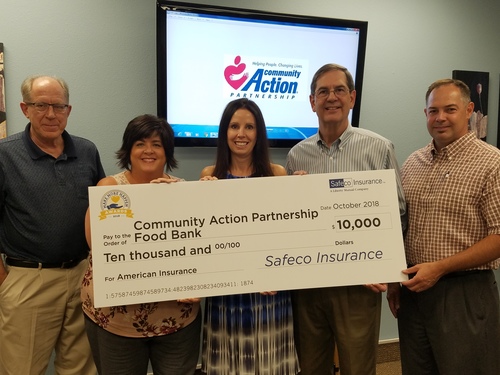 Steve Small, the food bank program manager for CAP in Lewiston, thanked the community members who helped us to reach our goal, Safeco Insurance, and John Sullivan and the staff at American Insurance and for making this wonderful contribution possible.

"The award from the Make More Happen will be used to largely defray the expense of a new forklift for our Food Bank warehouse," Steve said. "Our existing forklift approximately 20 years old, and no longer is functional in moving food into and around the warehouse, so the award could not have come at a better time, and makes it possible to fulfill an urgent and immediate need."
American Insurance, the largest Safeco Insurance representative agency in Lewiston, applied for the grant based on our support of the food bank though our annual "Hometown Business Food Drive".

"We thought if we could coordinate, partner and empower other local small businesses we could make a huge impact together," John Sullivan said. "The success of our Hometown Business Food Drive reinforces the fact that businesses like these are the backbone of a community."
Small said American Insurance has been a wonderful partner to families in need in our community.
"The contributions from the food drive, and the cash donations are very helpful, and greatly add to our ability to serve these families," he said.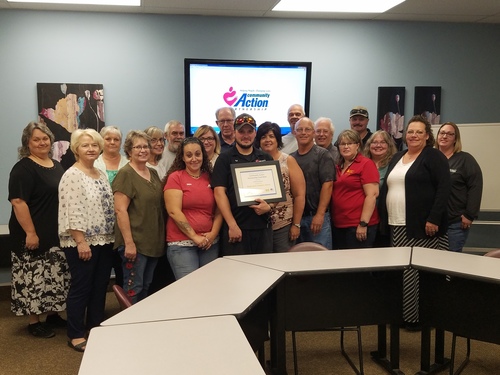 In 2016, more than 700 pounds of food was gathered from agency staff, friends and eight businesses in Lewiston, with a $500 American Insurance donation added for good measure. The following year, those numbers jumped to over 1,800 pounds of food, plus a $1,000 donation with 22 businesses involved. That's not even counting the efforts of American's Moscow office, about 30 miles away, which held a separate drive.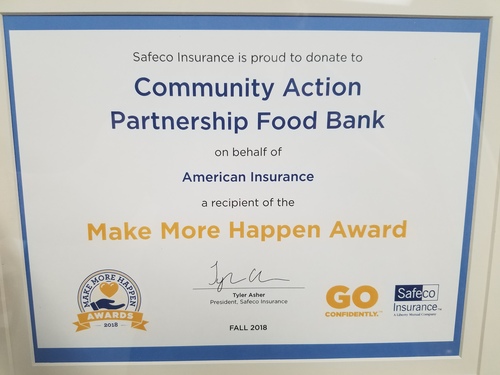 CAP puts those donations to good use — in 2017, the organization reached more than 37,000 households and nearly 90,000 individuals in five Idaho counties, Small said. Those in need can receive fresh produce and perishable foods regularly, boxes with non-perishable items several times a year, and even hygiene and personal-care items as needed.

Small called the ongoing partnership between CAP and American Insurance inspirational.
"They identified a need within their hometown, decided to take action, and did so in a well- planned and coordinated effort that brought in other businesses and individuals to assist in the effort," he said. "And looking forward, the effort continues to make it a bigger and better drive every year. Add to that the application for, and successful award of, the Make more Happen Award, and it would be hard to imagine a more committed and effective partner in implementing our vision at Community Action Food Bank."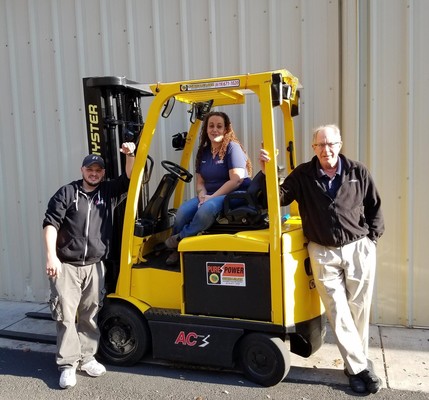 FORKLIFT REPLACED -- "Thank you for all that you did to make the " Make More Happen" grant possible. It made our new forklift possible," said Steve Small, Food Bank manager (shown at right). The $10,000 grant covered nearly all of the cost to replace an outdated and no longer working forklift.
Read more about the Safeco Make More Happen Award and our annual food drive on the Safeco note here.

Our 2018 Food Drive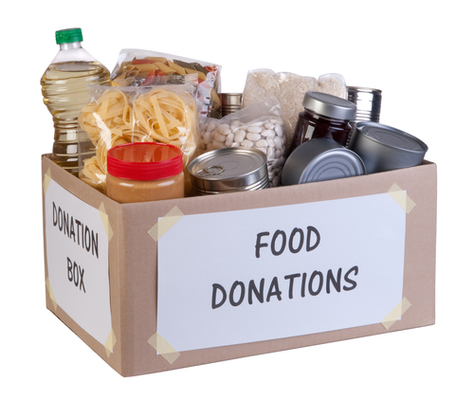 Our 3rd Annual American Insurance Hometown Business Food Drive happened in November 2018.
We invite all local small businesses to partner with us to support the area food banks to meet the needs of our community.
Our 2019 event is scheduled Nov. 18-22. Please contact us to be a partner by contacting our coordinator, Stephanie Herbert, (208) 413-6242 or StephH [at] Am-Ins [dot] com, or online here to be involved in that event.
"Thank you so much, again, for all that you do, and have done to support our efforts at the Community Action Food Bank," Small concluded. "Words cannot express our gratitude."
More articles related to…