AMERICAN INSURANCE was chosen as the "Business of the Year for 2018" by the Lewis Clark Chamber of Commerce.

"This recognition from the business community is an true honor. We strive to be a leader within our industry and actively support our communities. We live here, work here, and are locally owned and operated for 96 years," said Shawn Sullivan, President of American Insurance.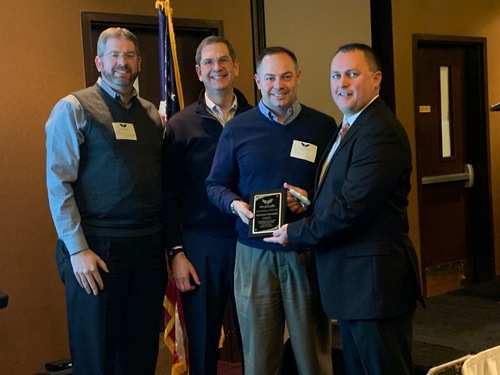 The Sullivans, Philip, John and Shawn (pictured left to right) were presented their award by outgoing Lewis Clark Chamber of Commerce president, Michael Gruben, at their annual awards banquet on January 9, 2019. There were 6 other business nominations in the small business (25 employees or less).
American Insurance was selected based on 1) their business mission, stability, and the quality of our business operations, and 2) on their Community activities and leadership, time and resources given to the Chamber, and their business impact on our community.
"Even though we are considered a small business, American Insurance has tried to make an over-sized impact for our community. What we lack in funding or resources we make up with hands-on work," said John B. Sullivan, Chairman of American Insurance.
2018 COMMUNITY EVENTS RECAP: (linked items provide more information)
SoupPort YWCA – American Insurance was recognized in February 2018 for being dessert sponsor and multi-year support of the event.
Community Sprit Fireworks - John B. Sullivan (our 3rd generation) helped found and for 34 years has continued to support Community Spirit. He is past president and continues to serve as an officer to spear-head and work at the valley's Independence Day Fireworks display. This event draws about 3,000 people to Adam's Field and thousands more watch from other vantage points. It draws surrounding people to the valley over the holiday to benefit local business. In 2018, we set up a PayPal website for online donations.
Make More Happen Award – In 2018 American Insurance applied for and received a grant of $10,000 from Safeco Insurance to benefit our local Community Action Food Bank. The grant was based on our direct work for the food bank and leading a social media campaign to collect 200 likes and shares to publicize their needs. The grant purchased a badly needed fork lift for the warehouse.
Hometown Business Food Drive – 2018 was our 3rd and most successful year! American Insurance created, sponsored, solicited, coordinated 28 other businesses and our employees physically collected and delivered 2,650 lbs of food for our local Community Action Food Bank.
Interlink - John Sullivan currently serves on the board of directors and is actively involved in their mission of providing ADA home ramps and essential transportation for local Seniors.
Twin County United Way – American Insurance has provided Stephanie Herbert as a loaned executive to for the last 2 years.
Our 2018 business achievements include:
Shawn Sullivan, President added, "This is a great honor and would not have been possible without the efforts of Stephanie Herbert, our Events Coordinator and a Chamber Ambassador, as well as entire American Insurance staff who support our Community projects."
John Sullivan got interviewed by Keith Havens of KLEW-TV for a story about this award.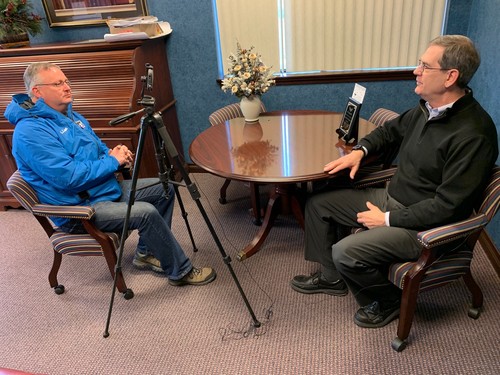 You can watch the interview on the KLEW-TV website here.