Family traditions come in all shapes and sizes. Maybe an annual trip to a cabin or destination, an event you go back to annually, relatives you visit - it seems it is in our nature to commemorate important dates and events. Traditions are a way to hold on to and make memories we never want to forget. I think the tradition we keep are a reflection of the things we really value.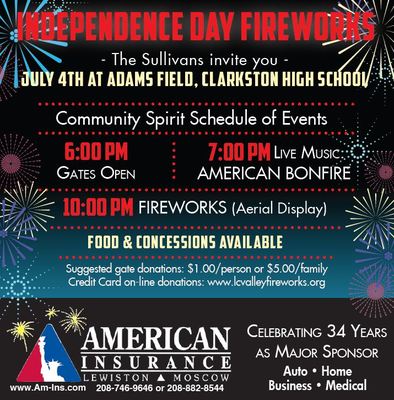 I grew up here in Lewiston and Clarkston and my dad's summer tradition was to invite friends over for a BBQ on the 4th of July and watch the Independence Days fireworks show together. I played until it was dark. Then I would wait impatiently for the big aerial fireworks to fill the sky with booms and colored bursts of light. Everyone ooh'd and ahh'd. It was spectacular!
As I grew up, I understood that it is important to celebrate America's birthday and remember the sacrifices from 1776 to today made by so many brave Americans in the cause of freedom and justice. When I had children of my own, I continued that tradition while raising my family.
Then one year, in 1984, we waited but were disappointed because there was no fireworks show. So, thirty-four years ago I made a commitment to help organize and support financially my family summer tradition – the annual Independence Day Celebration and Fireworks Show for the Lewiston/Clarkston valley. Others joined in and Community Spirit was born.
Since then, I have had the pleasure of watching my kids and grandkids "ooh and ahh" at each fireworks burst of light. Nothing has been more rewarding than having my family join with thousands of other valley families to keep the tradition alive as we all enjoy the Independence Day Celebration and Fireworks Show together.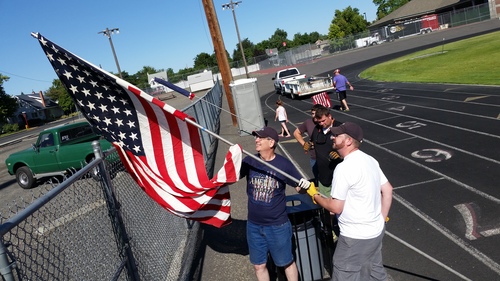 PASSING TRADITION TO NEXT GENERATION
The next generation has committed to keeping our tradition going. My sons, Shawn and Philip, on behalf of American Insurance, are committing their resources and time to support our Independence Day Celebration. As long as I'm able, I will be out setting up the American flags at Adams Field as usual.
What about your family traditions?
What are some of your longtime family traditions? We'd love to read some of your thoughts in the comments below.