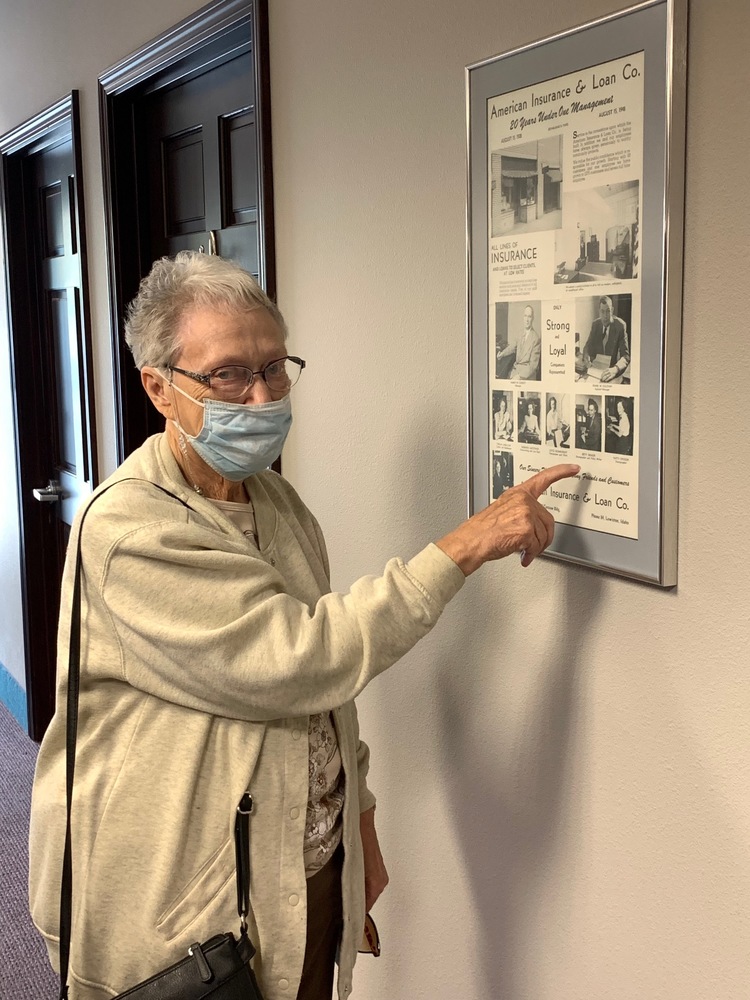 Betty Reimler Knopes found herself in a photo advertisement framed at the American Insurance office and told us her story.

She started working at American Insurance in 1948 at the age of 16, just after she had graduated high school.
Harry Christy taught her how to collect past due loans and premium payments due to the Agency. "He taught me to do a lot of things," she said. By opening a window to listen to her phone calls, he helped her learn her position. She said that by learning about collections, she learned how to talk to people about paying their bills.

She shared that people didn't make excuses, but some even came in to meet her in person. "I had people come by and thank me for being so nice to them." Betty also took letter dictations from Mr. Christy.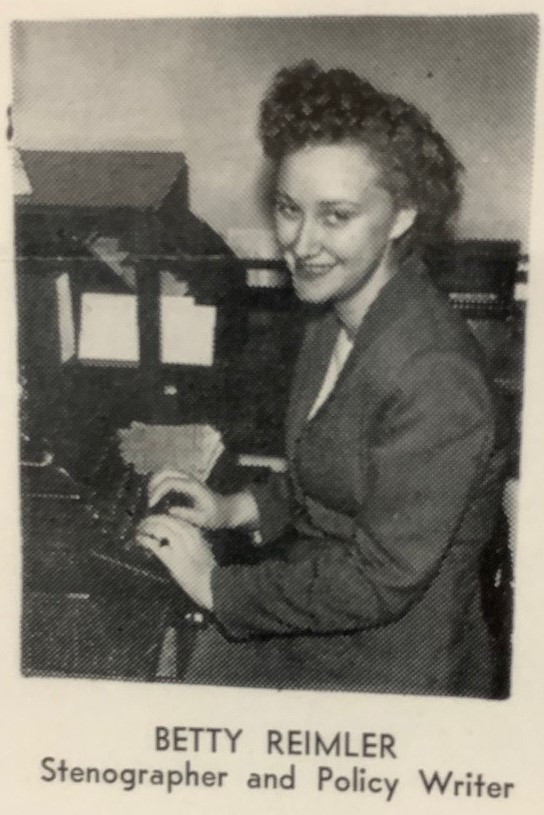 "He sent about 40 to 50 letters a day and they were typed on a manual typewriter," she said. Because each letter had to be PERFECT, to the letter, with no erasures back then, she very quickly learned how to not make any mistakes. "I got a good background on stuff like that and I had an excellent learning position for my first office job. Mr. Christy taught me there's more than one way to do things. He was a former teacher and would explain things. He was a good guy."
Betty said, "Blanche (Christy) was a doll, we used to exchange recipes and she reminded me of my mom – she was built just the same way as my mom was."
While at American Insurance she also worked with Thelma Jean Clay and Barbara McCowan Campbell, who was her mentor in PE in high school. She worked beside Frank "Sully" Sullivan as well. He brought in his little boy, Harry, who was not yet elementary school age. She only worked for Harry and Blanche Christy for about 18 months. "I planned to quit in a year after I was married. But they called me to come back. Later, when I was expecting my baby, then I was done to raise my family," she said.
Betty Reimler Knopes turned 90 years old this past September. When asked, how has American Insurance protected her American dream, she said that there was a fire in her early childhood home at the age of 11. The fire caused her to be cautious about her electrical plugins even today. She knows the importance of protecting her home in the event of such a fire. Betty insures her home at American Insurance and has been a customer for more than 50 years.

Find more history and photos online at www.Am-Ins.com/100years all throughout the year.