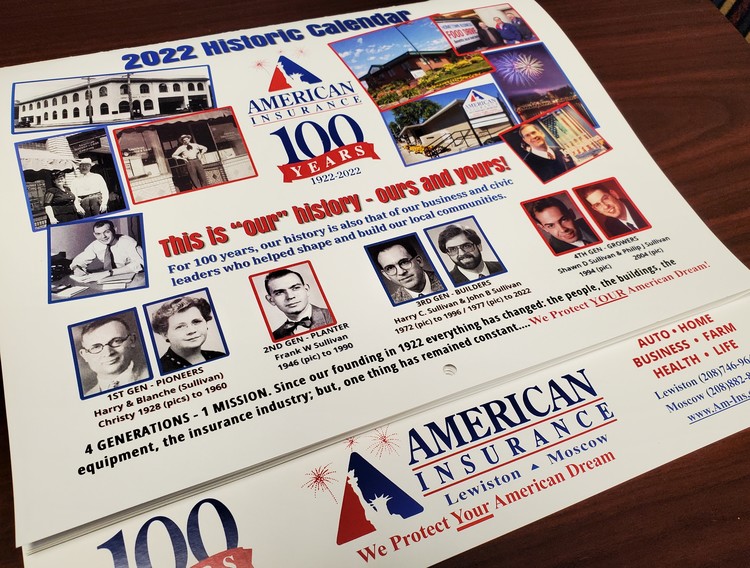 We are launching our 100th Anniversary with a special 2022 Historic Calendar!
On every page you will find historic pictures (some even embarrassing - eek!) and surprising stories. Read about the people who helped shape American Insurance and our communities, plus fun facts from history as we share our story. Also, each month throughout 2022 you will find important dates and invitations to customer appreciation events and celebrations with classic cars, office tours, lots of historic pictures, food, gifts and prizes. We are mailing one calendar to you but have extras available at your request. Just give us a call at (208) 746-9646 or (208) 882-8544 or (800) 735-6355 and we will hold one for you at your nearest American Insurance office.
Telling Our Story in 2022
Our historic calendar is just the beginning and provides only a brief history in pictures and captions that tell the tale from our Founder in 1922 through four generations of Sullivan ownership into our present day. Throughout 2022 we will expand each story featuring each generation that moved the insurance business ahead, each adding their own unique and different contributions. We call them the "Pioneers," the "Planter," the "Builders" and the "Growers" of the agency. These stories will be told in three more printed historic newsletters and online posts along with hundreds of historic pictures on our special website page www.Am-Ins.com/100years. Each story will be announced by email, on Facebook, as well as through fun historic tidbits featured in the Tribune, KLEW-TV and on local radio stations.

What does it take to last 100 years?
Perhaps a bit of luck! But for sure, it takes two things…..
The time, talents, and hard work of excellent employees. We have featured pictures of office staff throughout our history. Each one was indispensable and added to any success we achieved, and

The goodwill and loyalty of wonderful customers like you! "Thank you" for sharing your life with us and for your continued trust and support.
We count it a privilege to have touched the lives of thousands of our neighbors - as customers and employees, as claimants who receive needed insurance benefits, or as civic support and leadership to make our communities stronger. So, with a deep sense of gratitude we share our history with you.
We wish you a Merry Christmas 2021 and Happy New Year 2022!
John, Shawn and Philip Sullivan