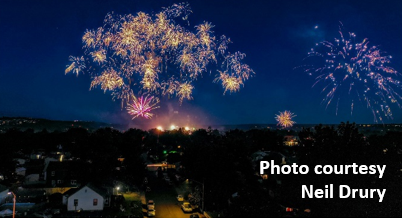 Donations needed to meet funding challenges

First, the good news! The big LC Valley Fireworks display will be happening again this July 4th, Independence Day! However, Community Spirit, the non-profit funding the show for the last 36 years, is sounding the alarm that funding is falling short and reserves will be exhausted unless funding resources are expanded to meet the challenge. Public donations and additional sponsors are needed to bring the funding up to a new inflation level in order to sustain a quality aerial fireworks display.
HERE'S WHAT'S HAPPENING!
Inflation Driving Rising Costs: The historic rise in inflation and supply chain issues have raised the costs for the shells, transportation and labor to shoot our LC Valley aerial fireworks show by +25%.
Pre-show Concert Cancelled: The Adams Field gate donations have never been enough to pay the costs for a live band, staging, sound equipment, sanitation, security and insurance for the pre-show event. Inflated costs would deepen that deficit. So, with inadequate funding, rather than pull funds away from the aerial fireworks show the Community Spirit board has cancelled the pre-show activities this year.
Aerial Fireworks Show will happen: The aerial fireworks display will be lit over the valley at 10 pm as usual. Community Spirit invites you to enjoy the show with family and friends from your favorite viewing points around the valley. Listen for the fun and patriotic soundtrack to accompany the show on Canyon Country 106.9, Hometown Radio KRLC 93.1 FM, The River 105.1 FM, News Talk 95.5 FM, and Z-Rock 96.5.
HOW YOU CAN HELP!
Consider making a donation annually to help us continue to honor and celebrate America's birthday, our heritage and the sacrifices of our heroes from yesterday and today. Funding for our local LC Valley aerial fireworks display has always been a cooperative effort of business sponsors and public donations. It takes both to sustain the show year after year.

Personal Donations: Donations of any size are needed and appreciated. To donate please send your check to Community Spirit, 55 Southway Ave, Lewiston, ID 83501; or email Community [at] Am-Iins [dot] com; or donate securely online through PayPal at www.lcvalleyfireworks.org/.
You can call our Marketing Manager Stephanie Herbert at 208-413-6242 with any questions. And, thank you!
Say thanks to these local, generous sponsors!
Our current sponsors include:
Major Sponsors ($3,500): American Insurance, Clearwater River Casino, McVey Entertainment, P1FCU, and Vista Outdoor
Spirit Sponsors ($650): Express Employment Professionals, Happy Day Restaurants, Hazels/ Roosters restaurants, Hells Canyon Grand Hotel, Joe Hall Ford, LCCU, Lewiston Chevrolet, Rogers Dodge, Rogers Subaru; Rogers Toyota; and Twin River Bank
Patriot Sponsors ($325): Sunrise Home Center, and Joyce Keefer of Century 21
Private donors (no numbers shared): 2kidsfromLewiston; and more!