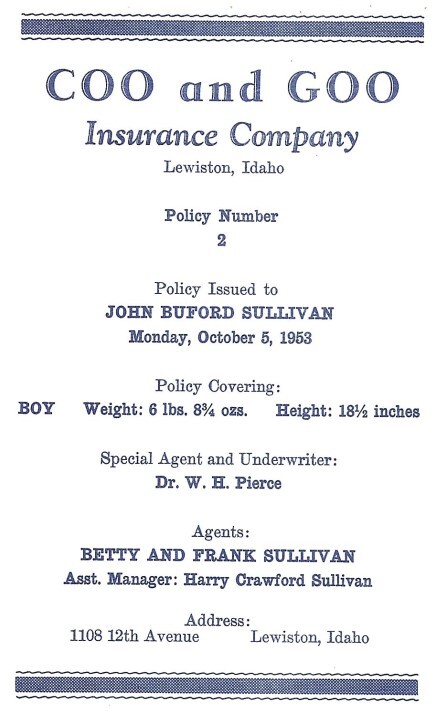 As you can see from the creative insurance themed birth announcement, I was destined for an insurance career from day one. This is the story of my early years before I joined the family insurance business. Even people who know me will be surprised by some of these details of my early years.

I am youngest of two sons born to Frank "Sully" Sullivan and my mother, Betty. My older brother, Harry (then age 6) is shown as "Asst Manager" in the announcement.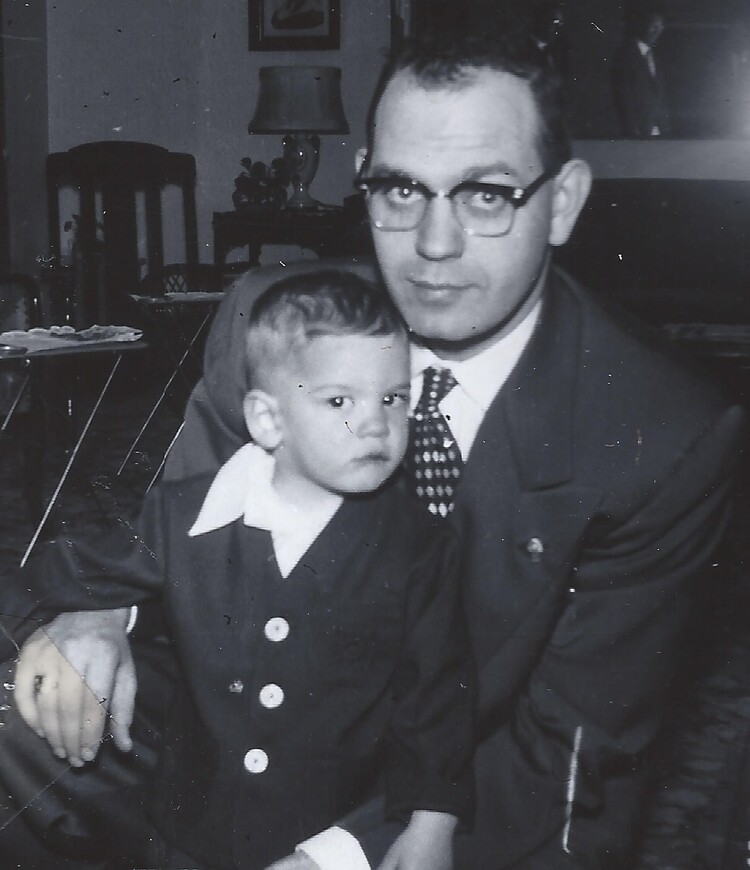 My dad, Sully, had returned home from serving in the Korean War for seven months in November 1952 and resumed his work at American Insurance. Like magic, within 11 months, I was born in October 1953. I was named "John" in honor of my dad's father, John O. Sullivan, my Iowa grandpa. My middle name was from mother's family. She was named Betty B. Crawford and assumed the "B" stood for "Buford" which is a name somewhere deep in the family's Texas history. Turns out it was just "Betty B" with no other meaning. So, I got saddled with "Buford" and have been hiding it with the initial "B" my entire life. Secrets out now!"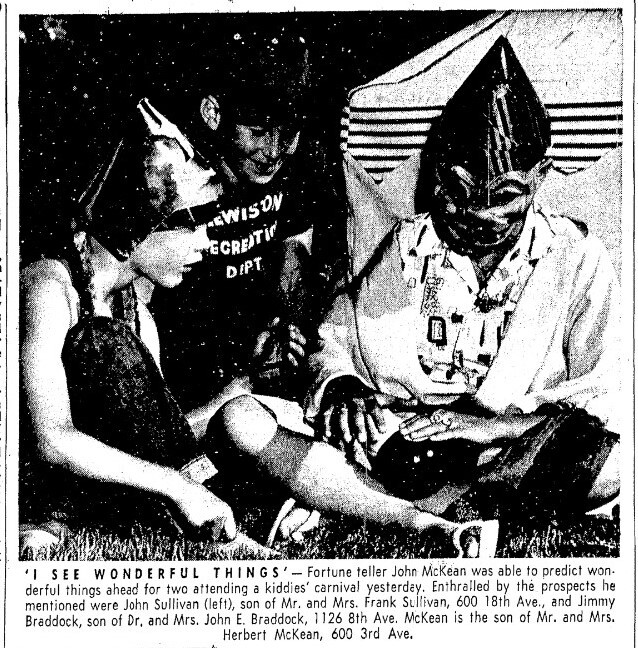 LEAVE IT TO BEAVER: I was raised in Lewiston during what is commonly referred to as the "Leave it to Beaver" era in reference to the classic TV series. It was a simpler time when kids spent their days playing all over the neighborhood, riding bikes everywhere, at dusk playing 'Hide & Seek" and yelling "olly olly oxen free", going to Cub Scouts, and playing in Little League. And that was exactly what I did. When I wasn't playing, I was mesmerized by television, watching "The Wonderful World of Disney" on Sundays which filled me with curiosity and desire for mystery and adventure. Pic: LMT 6/28/1960 Kiddies Carnival – John (L).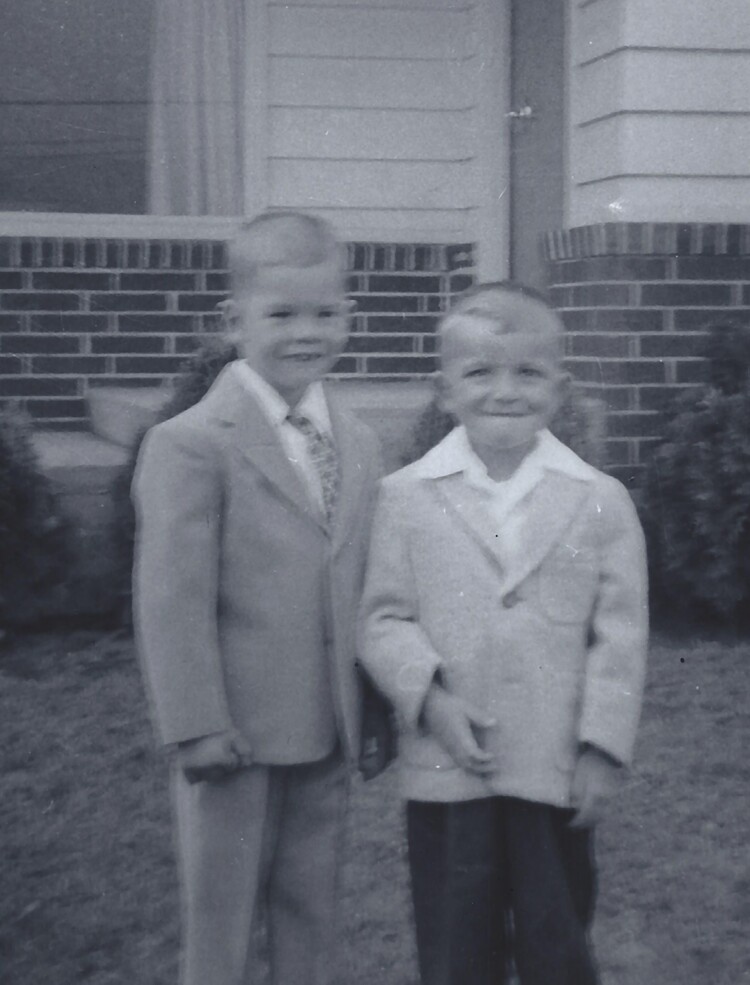 My childhood best friend was Larry Gardner, who lived across the street. We played together constantly. He was a year behind me in school but we were near the same age. His mom, Margaret, was like a second mom to me. We stayed close through grade school." Pic: 1957 - John (L) and Larry (R) about age 4, dressed for church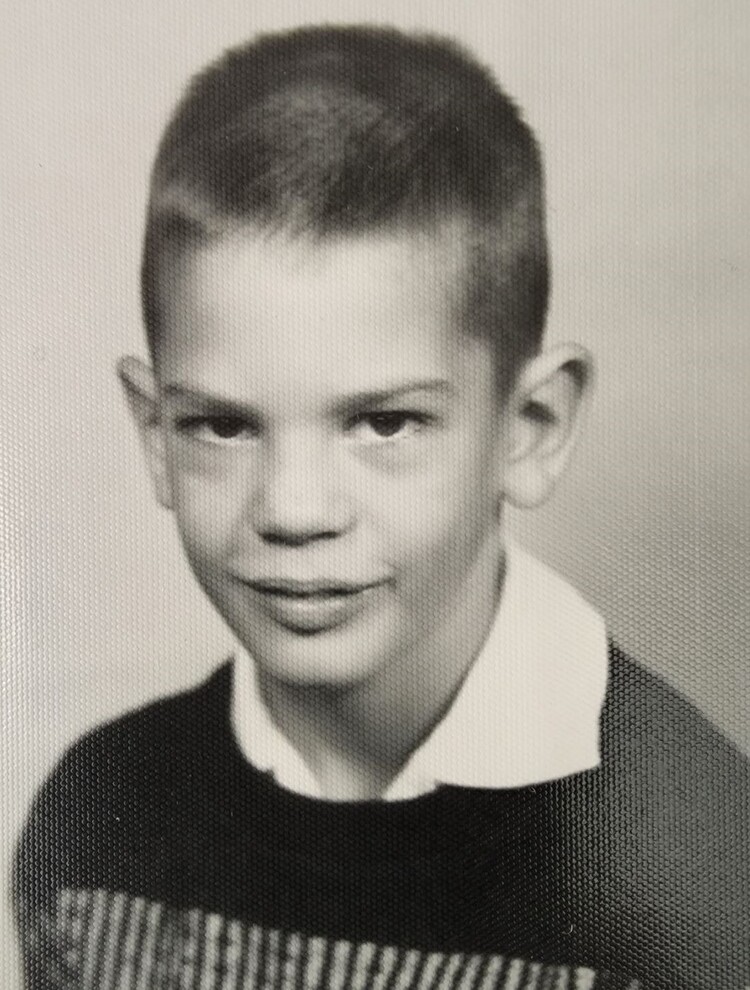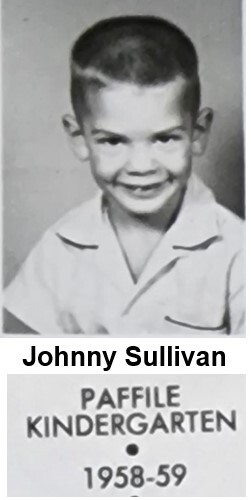 EARLY SCHOOL DAYS: I went to the popular Mrs. Paffile's Prospect Ave. Kindergarten and then started first grade at age 6 at Webster Elementary School. I was always the youngest (and sometimes the most immature) in every grade because of my birthday being so close to the age cut-off. I walked seven blocks to Webster School (up-hill, both ways – ha!) in grades 1 through 5. I learned a valuable lesson by 3rd grade to use the bathroom before wallking home. I walked, then ran, then sprinted before wetting my pants at least twice before 3rd grade. I hardly do that anymore. Pics right: 1958 - John in Kindergarten; 1961 - John, age 8;
LINKED PIC: Mrs. Paffile's Kindergarten 1958-59 Students. - many of the kids I knew in Kindergarten were also my classmates at Webster Elementary and then in my LHS Graduation class of 1971. John, age 6, is in the far left of row 2 from the top.
LINKED PIC: 1963-64, 5th grade class at Webster School– you will recognize many Lewiston life-long residents in this photo. One girl here was the recipient of John's first real kiss! John, age 11, can be found in 2nd row from top, 4th from left - the big ears & buck teeth are a clue.
DIVORCE HITS HOME: Divorce became a very common occurrence in the 1960s. My parents divorced in the summer of 1963 and it changed everything. As is typical with kids, I was oblivious to any relationship problems between my parents. I never heard an argument. That summer, I moved with my mother to Moscow so she could finish her Elementary Education Degree to become a teacher. I went to sixth grade at Lena Whitmore Elementary in Moscow. By June of 1964, my mom married Palmer Chase and they moved us as a family to the Clarkston Heights. I visited my dad, Sully, on weekends.
JUNIOR HIGH DAYS: I attended Clarkston's Lincoln Middle School for my 7th, 8th and 9th grade years. This was before the new Junior High was built in the Heights. We lived in the Clarkston Heights on Appleside Blvd in an older house attached to three acres. My step-father, Palmer, was in the Nez Perce County Mounted Sheriff's Posse and had a couple of horses.He built a barn on the property and I was given my own little red sorrel mare horse named "Miah". I rode her all over the Clarkston Heights with friends for those three years. My Junior High years were mostly uneventful except for the usual youthful shenanigans. I was into spy stuff and TV shows like The Man from UNCLE, I Spy, Mission Impossible, and Get Smart. Doing stuff like wearing shoulder holster fake guns, decoder rings, black-out clothes and sneaking around. OK, creepy stuff but I grew out of it. I tried smoking cigarettes in 9th grade and could have burned down the barn. Dumb!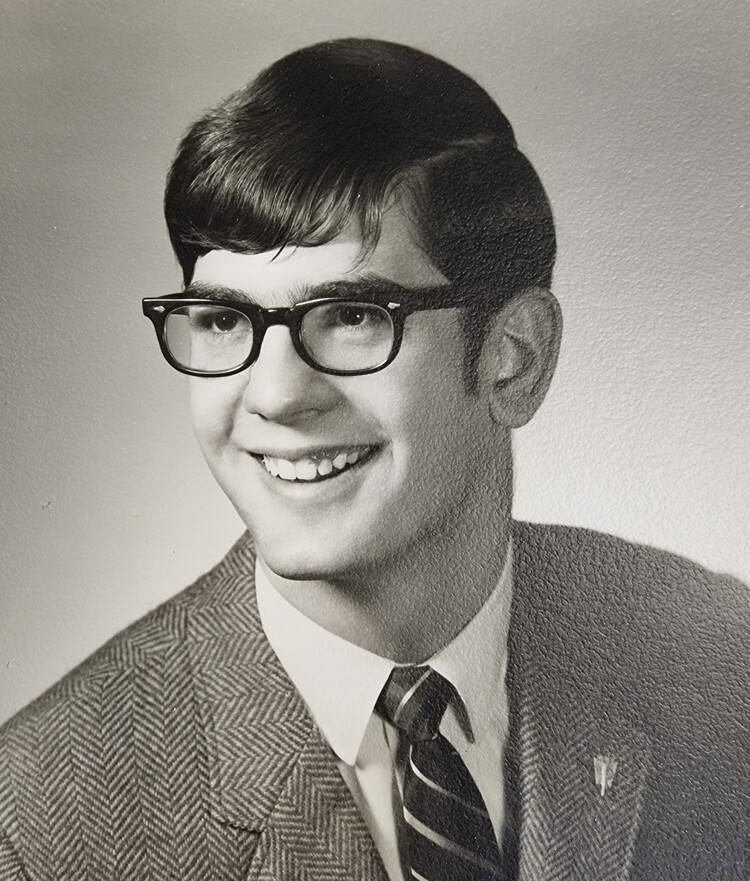 HIGH SCHOOL DAYS: My mom and Palmer had both gotten teaching jobs in Orofino where Palmer's brother, Levon, was the High School Principal. They had commuted to work for three years and now decided to relocate to Orofino. We moved up there so I could start at Orofino High School in 1968. I attended there for 2-1/2 years and decided to move back to Lewiston where my dad lived in the middle of my Senior year and work at KOZE Radio. I graduated from Lewiston High School in 1971 with honors. Pic: 1971 LHS Senior Picture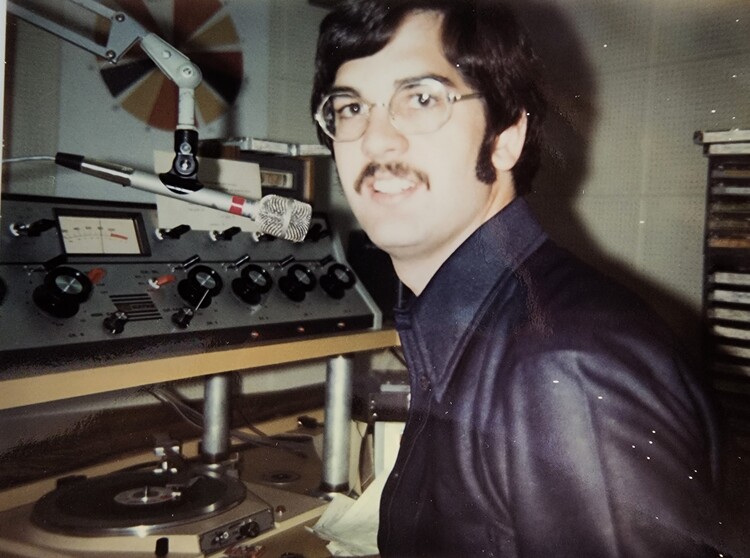 RADIO STATION CAREER BEGINS: Most people are surprised to know that I became a commercial radio station disc-jockey while a high school sophomore at age 15. I went from an after-school radio show at KLER in Orofino (1969-70), to being a full-time radio personality at KOZE in Lewiston while in college (1971-74) and then radio station sales and general manager of KORT in Grangeville (1975-77).
These early opportunities had a tremendous effect on my life and helped me develop skills that served me well throughout my insurance career.
COLLEGE DAYS: My life was on a fast track by the time I started college at Lewis-Clark State College in the fall of 1971. I guess I was in a hurry to live my life. I had gotten married to my high school sweetheart, Cindy Ashwood and (like magic) we welcomed a baby boy, Shawn, into our lives. As if being a parent wasn't enough pressure at age 18, I was in college full-time, taking twelve credits a semester and working six days a week at KOZE Radio.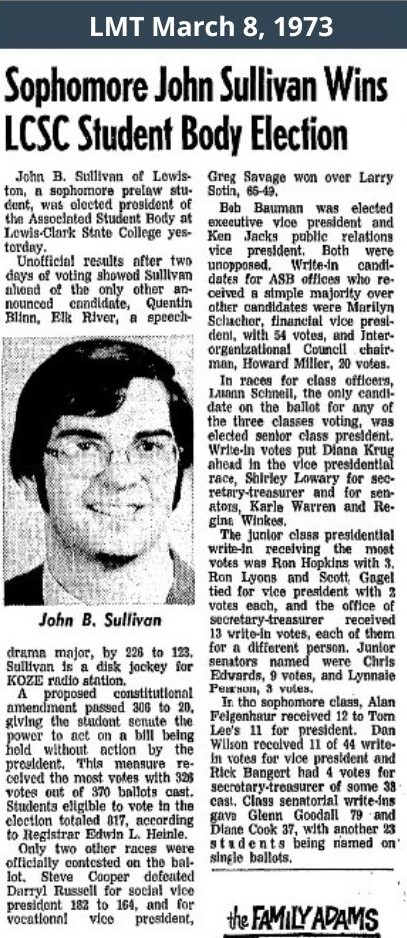 LCSC ASB President 1973-74: My college class schedules were designed to lead to a pre-law degree because, at the time, I wanted to be an attorney. In my freshman year, I became interested in student government and was elected to serve in the Student Senate for two years. This sparked an interest in student issues like alcohol on campus (of course), tenure policies for teachers, and student entertainment.
In 1973 I ran for Associated Student Body President and was elected. I had the opportunity to attend Idaho State Board of Education meetings, meet then Governor Cecil D. Andrus and help dedicate the LCSC Edward V. Williams College Union Building, and helped bring big name entertainment concerts to LCSC like Rick Nelson, Helen Ready, Mac Davis, the Everly Brothers and Lobo. It was a great experience. (See links to pictures and related stories)
CAREER CROSSROAD: After three years of college, the radio station could no longer accommodate my school scheduling. They offered me a full-time job as station manager of KORT in Grangeville. Before taking the job, I called my dad, Sully, and asked if I could join the family insurance business now. The timing wasn't right and he said "no".
It was hard to hear at the time, but it took courage and wisdom on my dad's part to know I wasn't ready and he wasn't ready to bring me into the insurance business.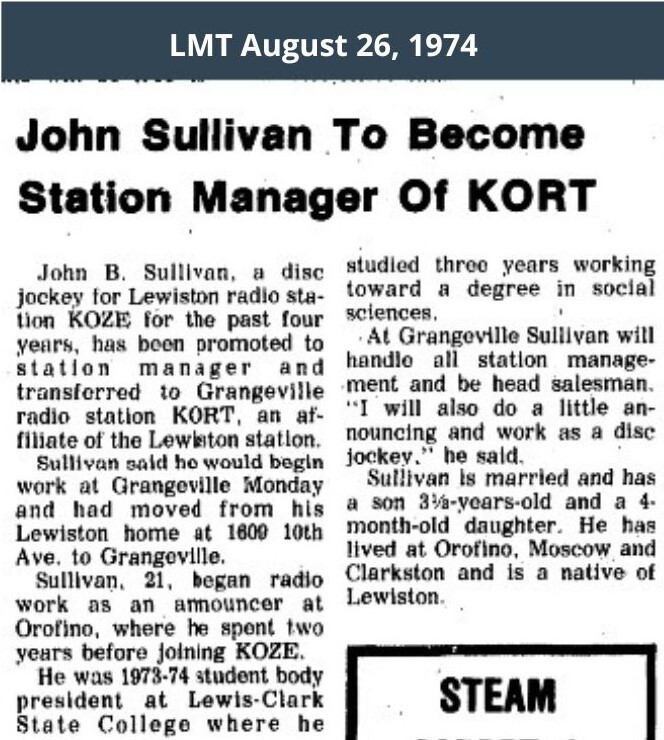 So, I left college and took the station manager job at KORT. At age 21, I managed a 7-day-a-week business with seven employees. For three years I learned the ins- and-outs of advertising, sales and management and built-up revenues so a new building could be built for KORT operations.
Then, after three years that call came from my dad. He was ready and so was I to start an insurance career that has now spanned 45 years. But that, as they say, is another story.
To pick up the story at American Insurance read: The Builders: Harry & John Sullivan