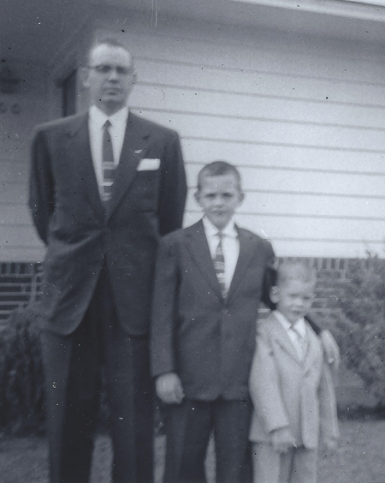 Frank "Sully" Sullivan has two sons, born and raised in Lewiston. Pictured left in 1957, are both sons who grew up and joined their dad as the third generation in the family insurance business.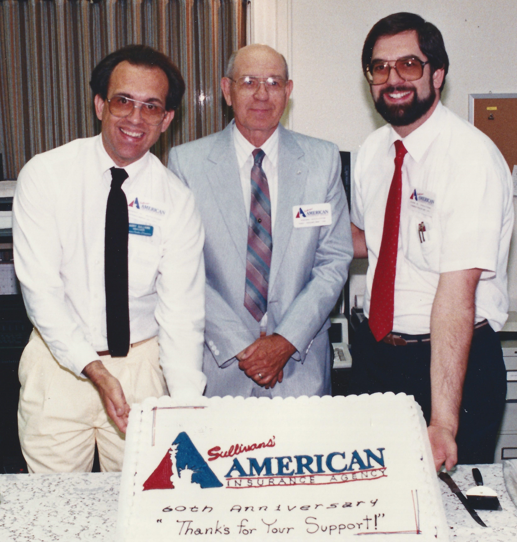 Harry C. Sullivan – 1972 to 1996 The eldest son, Harry, went to work at American Insurance in 1972, after graduation from the University of Washington. Over his 24-year career, Harry sold all lines of insurance, managed the Commercial Lines Department, and developed marketing and telemarketing programs that helped rapidly add new customers to the business. He served as agency President before leaving the insurance business in 1996.
John B. Sullivan – 1977 to 2022 The younger son, John, left a position in commercial radio sales and station management in 1977 to work with his father and brother at American Insurance.
(Also read John B. Sullivan - The Early Years to discover why he was destined for an insurance career from birth!)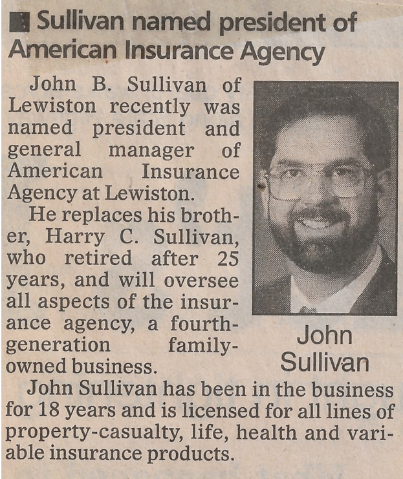 John began his career in the life insurance department selling individual and group life, disability, and medical insurance. The department grew with additional agents. Then, over his 45-year career, John gained extensive experience in every aspect of personal and commercial property-casualty insurance before taking over all operations as President and Agency Manager in 1996.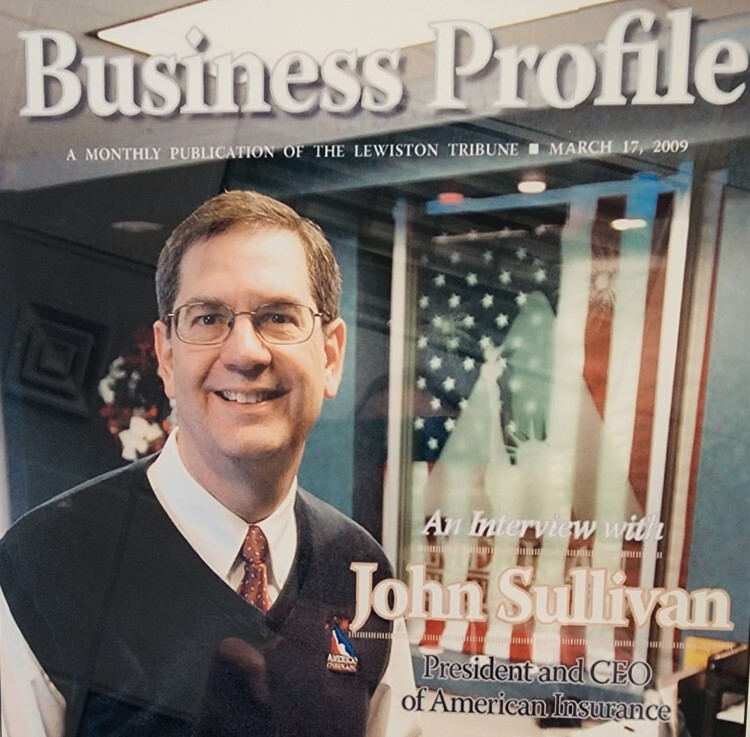 A detailed story of how John started in the business along with the challenges and accomplishments along the way was featured in Business Profile, a Lewiston Tribune supplement published on March 17, 2009. John was interviewed by Mary Tatko and covers his early years as a radio station disc jockey and station manager, how he began his insurance career on the basement level (literally) plus other history and fun anecdotes. Read that story here.

BUILDING OPERATIONS: Besides his agent duties, John had a knack for organization. It fell to John to build-up and modernize the internal operations into the digital age with the first computers, fiber-optic communications and internet, web-based customer service, the first web-site, intranet, employee manual, and policies & procedures.



BUILDING FACILITIES: As the agency grew, John built the new Lewiston office building in 2004, acquired the former Remington Insurance in 2005 and establishing a branch office in Moscow. That office was moved to a newly purchased and remodeled building in 2018 as a permanent home.
BUILDING COMMUNICATIONS: John has always enjoyed helping customers understand the basics of insurance. He has written nearly one-hundred insurance related articles that have been featured in his customer newsletters that began in 1991. Articles are also regularly published as FAQs on the American Insurance website at www.Am-Ins.com and sent by email to keep customers up-to-date on their coverage, how to get discounts, safety and risk management resources, and what to do if you have a claim.
American Insurance now has 21 employees including John's two sons, Shawn and Philip. Leadership transition began in 2019 when Shawn D. Sullivan, became President and Philip J. Sullivan became Vice President of the Agency. John retained the CEO title and restricted his activities to select clients. By the end of 2022, John will have transferred all his clients to his experienced agents and continue as Chairman focusing on continued growth through mergers and acquisitions of other insurance agencies.
Also read John B. Sullivan - The Early Years to find out the circumstances, events and accomplishments that shaped his early life and why he was destined for an insurance career at American Insurance.