B-17 Bomber Shot Down - Sully a Prisoner of War!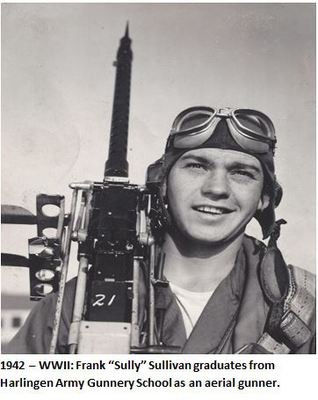 Frank "Sully" Sullivan enlisted in the US Air Corps immediately after graduation from high school on June 3, 1942. He was inducted at Fort Des Moines, IA and completed his basic training at Jefferson Barracks, St Louis, MO. He completed radio school at Sioux Falls, SD. Then Morse Code school - 25 words/minute and printed out - to qualify as a radio operator on a B-17 bomber. Next was Gunnery school at Harlingen, TX to qualify as an aerial gunner (50 cal machine gun). A B-17 had a crew of 9 if fully staffed. Sully became a radio operator/gunner on a B-17. He skipped two grades and went from Private to Gunnery Sergeant.
Sully was deployed to England in support of Operation Overlord after D-Day which began on June 6, 1944. He first flew to Gulf Port, Miss, then to Atlanta, GA and on to Bangor, MN for the hop across the Atlantic. They hit really bad weather as they crossed the Atlantic and had to jettison everything on board (food, liquor, supplies, even their clothes) to save altitude. Sully was the communications officer on the plane and let out trailing-wire antenna of 100 ft and sent coded messages as to flight's condition and position. They struggled to make it to Valley, Wales on the two remaining engines. Even considering his later bombing runs Sully said it was the worst flight he ever experienced in the war!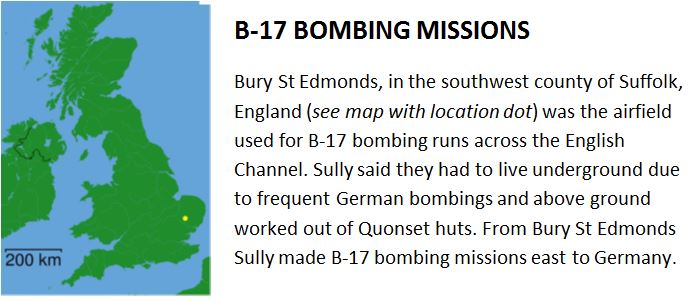 THE RAT & THE WIND
.....On the family farm back home in Bloomfield, Iowa his grandparents and Uncle Bob worried daily about Frank and prayed he would survive the war. As a young boy they called him "Buddy" and he was farmed out to live and work on the family farm. As boys do, a rat had died in the barn so he skinned it with his little pocket knife and stretched the skin out on a wire hanger. For years that dried rat skin had hung on a nail in the barn.
It was a windy day on April 5, 1945 when his Uncle Bob went to the barn and found that the rat skin had blown off the nail and fallen to the ground. As he picked it up and put it back on the nail he wondered silently if Buddy was OK.....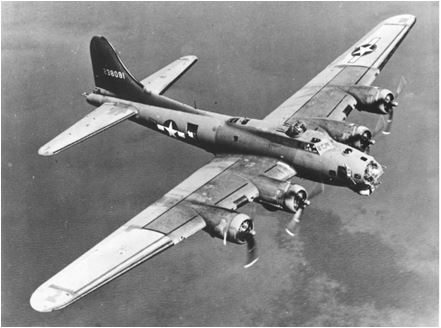 It was on that day, the 5th of April 1945, on Sully's 15th bombing mission in a B-17G that his 332nd Squadron piloted by Lt. Clark C Dickerson, Jr reduced altitude to 10,000 ft and dropped their bombs on the marshaling yards (train hub) in Nuremburg, Germany. Their plane, Agony Wagon, was hit by German flack and fighters causing the engines to catch on fire. They tried to limp back to England but were progressively losing altitude. The plane's four engines were on fire and acrid smoke came through the bomb doors filling up the plane. The oxygen tanks were exploding from the fire heat. The parachutes were burning. There was no way to make it home across the English Channel so they were forced to crash land the plane, skidding wheels-up on the belly into a brushy swamp area in Holland. With every bounce of the plane men began jumping out. Two men went out the waist door and were injured by the plane. Sully stayed with the plane to the end and then got out the waist door.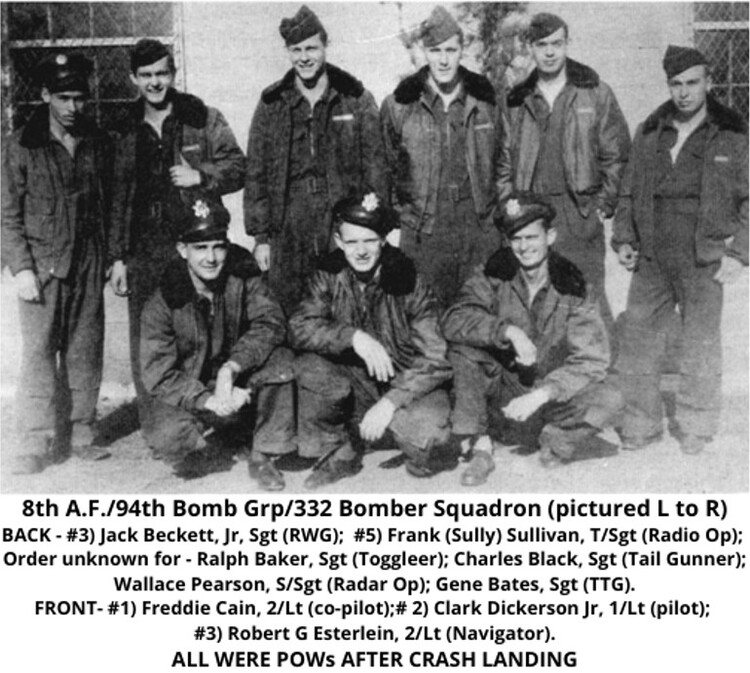 PRISONER OF WAR
Covered in black soot he moved away from the burning airplane but was immediately pinned down by enemy gunfire. German SS Officers captured them, took all their jewelry, rings, ID, watches and took them to an underground potato cellar. No food or water for 72 hours. The German Army (Wehrmacht) took over and put them on an old bus that burned wood for power to travel to Frankfurt, Germany for interrogation.
The interrogators were so proud of themselves about the information they knew about you. They knew your mom & dad's name, where you were from, and every military training school you completed. From there he was bused to Keel, Germany, then marched to Amsterdam, Holland, then down to Rotterdam, Holland, and finally back up to a monastery in Aalsmeer, Holland (tulip capital of the world).
There, in the basement of the monastery, he remained a prisoner of war with an estimated 200 prisoners – mostly air corp. They lived on flower bulbs, blue cabbage, and ginger tea. Conditions were tough and some POWs died due to stomach problems and dysentery. They were starving and Sully at 6 foot tall lost weight down to about 140 lbs while in captivity.
Read Declassified MIA Mission Reports
VE DAY – FINALLY FREE & GOING HOME
On the eve of VE day, May 8, 1945, Canadian and British troops in fierce fighting liberated the 200 prisoners from the monastery. Sadly, the battle cost around 200 Allied casualties that would have been spared if the battle had been one day later.
Sully was now free! He was taken to Brussels, Belgium where he stayed in a hotel and had some medical treatment. He was fed eggnog to help gain some weight. Next he was transported to Namur, Belgium, then to a hospital in Reims, France and later to camp "Lucky Strike" northeast of LeHavre, France, where troops were processed and waited for a "Liberty Ship" to return to the states.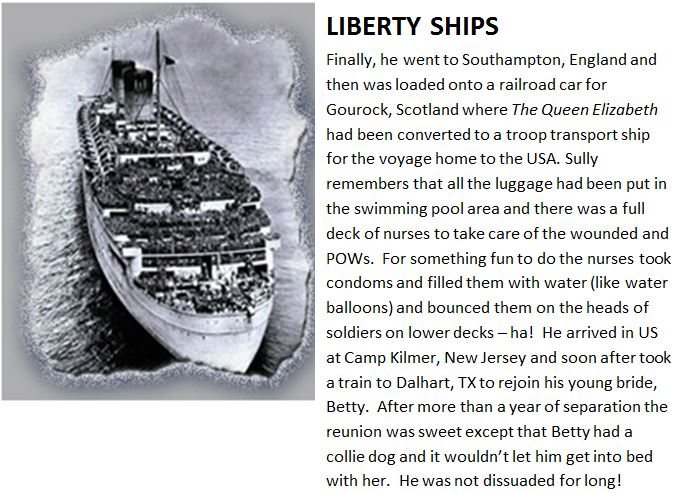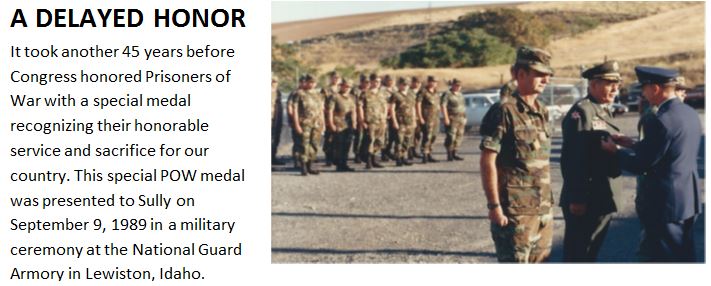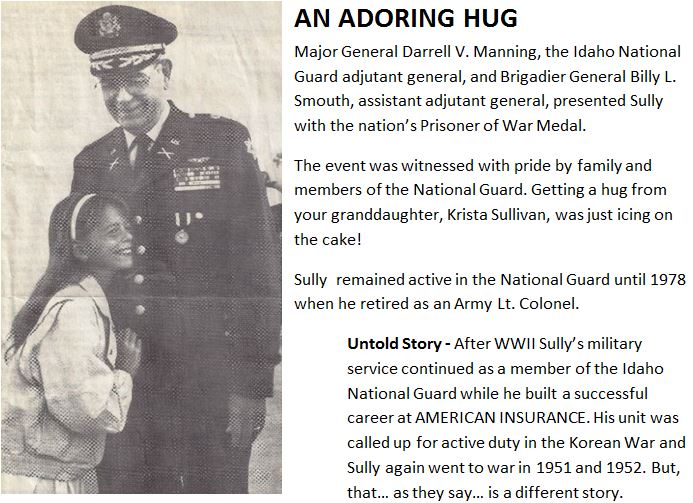 Author's Note: For 66 years my dad remained silent about details of his WWII POW experience. Finally at age 88 he began telling me his story and I took these notes. I then wrote this story and attempted to fact check places and dates. My dad then helped me correct and fill in my understanding of events to the best of his ability and memory. My dad passed away on August 12, 2013 at age 90. He was proud of his service to his country but knows he was lucky to survive. Others paid the ultimate sacrifice and he felt privileged to be able to live the best life he could while continuing to serve his country, his community, and his family. Oh, by the way...I still have that rat skin! John B. Sullivan
PS: KOREAN WAR - After his service in WWII, Sully joined the Army Reserves, 148th Engineering Battalion, stationed here in Lewiston, ID. When America entered the Korean War, his unit was called up. At that time he was age 28, married to Betty, and they had one son, Harry, age 2. Sully, a 1st Lt, was assigned to the 105 mm Howitzer Battery, 3rd Infantry Division as a Forward Observer (FO).
Click and read a letter Sully send home from Korea that details events that occurred on March 12, 1951, that can only be described as...SULLY'S WORST BIRTHDAY.
After the Korean War, Sully ended his service with the National Guard. He continued to build a successful career at AMERICAN INSURANCE. At the urging of military friends, he re-joined the Idaho National Guard to complete his years of service. Although he was a Captain, he had to serve as a Staff Sgt and there are many stories told by other guardsman how the "old timer" was close friends with all the generals. He ended his service with the Idaho National Guard in 1978 and attained the rank of Army Lt. Colonel.