Contractors who build, install, maintain, service or repair and any other type of small business can reduce workers compensation and liability claims by implementing a "tag-out" program.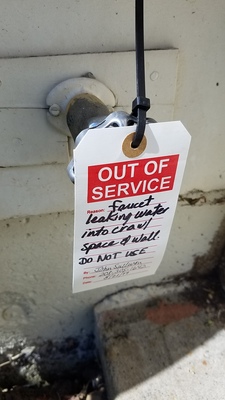 A "tag-out" program is essentially an organized way to communicate with fellow employees and customers not to operate or use an item until repairs can be completed.
This idea is a scaled down version of the formal Lockout and Tagout procedures used in heavy industry. To reduce worker death and injury, OSHA has regulations outlined in 29 CFR 1910.147 regarding control of hazardous enery using lockout/tagout.
Even though not required by OSHA, small business can also benefit from using a limited "tagout" program.
TAGOUT EXAMPLES
Property Manager tags-out a water faucet until repair can be completed by a plumber.
Appliance repair contractor tags-out the under-sink water supply in the "off" position because the dishwasher is leaking. He must order a part to complete repairs.
Home remodeler tags-out an electrical circuit temporarily until installation of an appliance is complete.
A business owner tags-out a vehicle's steering wheel or the vehicle's key to warn employees not to drive the vehicle until repairs are completed or until insurance coverage is added back on the vehicle.
A business owner tags-out a machine to warn employees that operating it will damage the machine until repairs are completed.
If you give this idea just a little thought, I'm sure you can think of many circumstances to use a tagout program in your business. Communicating with a tagout can lower your risk of property damage and bodily injury liability claims.
AMERICAN INSURANCE recommends you implement a tagout program for your business and operations. We have a starter supply of tagout tags that we can give you. If you find the tagout program useful we can assist you in obtaining a supply of tagout tags. Contact us online or at LossControl [at] Am-Ins [dot] com for your tags.
NOTE: Depending on the size and type of business you operate you may be subject to OSHA, Federal and State Trade Regulations that govern your safety policies and procedures.