Is your vehicle safe? Find out how to know whether a safety recall has been issued on your car and what to do if you have a vehicle or motor vehicle safety problem.
If you have registered your vehicle, your manufacturer will attempt to notify you if there's a safety recall by sending you a letter in the mail. However, if your registration address has changed and not up-to-date you may have missed a notification.
When your vehicle, equipment, car seat, or tire is subject to a recall, a safety defect has been identified that affects you. NHTSA monitors each safety recall to make sure owners receive safe, free, and effective remedies from manufacturers according to the Safety Act and Federal regulations. If there is a safety recall, your manufacturer will fix the problem free of charge.
ONLINE VEHICLE RECALL LOOKUP: Click and visit the NHTSA's VIN Look-Up tool on the NHTSA.gov front page at least twice a year to see if any of your vehicles, tires or car seats are under a recall. This check will help ensure that your family is protected even when spending time away from your home. You can also sign up to receive from NHTSA e-mail recall notifications affecting your make and model.
Where's my VIN?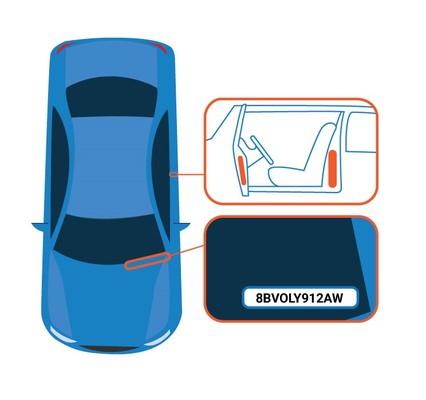 Look on the lower left of your car's windshield for your 17-character Vehicle Identification Number. Your VIN is also located on your car's registration card, and it may be shown on your insurance card.
What this VIN search tool covers
What this VIN search tool does not cover
Source: National Highway Traffic Safety Administration, https://www.nhtsa.gov/recalls