The Chevrolet Volt and Nissan Leaf earn the highest safety ratings from the Insurance Institute for Highway Safety in the first-ever U.S. crash test evaluations of plug-in electric cars. The milestone demonstrates that automakers are using the same safety engineering in new electric cars as they do in gasoline-powered vehicles.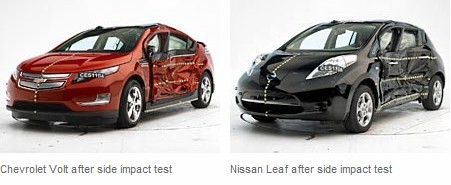 The dual-power Volt and all-electric Leaf not only surpass benchmarks for protecting occupants in crashes but also exceed current fuel efficiency and emissions standards. Both models are brand new for 2011.
"What powers the wheels is different, but the level of safety for the Volt and Leaf is as high as any of our other top crash test performers," says Joe Nolan, the Institute's chief administrative officer. "Eco-minded drivers keen on switching to electric would do well to buy a Leaf or Volt for highway driving instead of a low-speed vehicle if they're at all concerned about being protected in a crash. The Leaf and Volt's extra mass gives them a safety advantage over other small cars," Nolan says. "These electric models are a win-win for fuel economy and safety."
See video of crash test and read more…
Source: Insurance Institute For Highway Safety – News Release, Apr 26, 2011