AMERICAN INSURANCE, Lewiston and Moscow, were voted "Best of the West" Insurance Agency for 2012.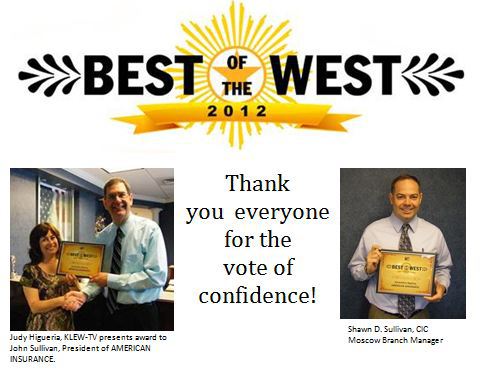 We are very proud to be chosen by popular vote and always strive to be worthy of our customers' continued trust.
Our "Mission" continues to be:
"AMERICAN INSURANCE is Independent and strives to be the quad-cities leading insurance agency for all personal, business, farm and benefit protection. Our licensed and experienced agents endeavor to know you and discover your unique risk needs; to provide competitive quotations and creative choices using the best policies at the lowest prices; and to enhance our relationship with personal service that is prompt, accurate and caring."
How are we doing for you? Your comments make us better! Tell us what you think at "Customer Service Feedback".
"Best of the West" is an annual online consumer survey conducted by KLEW-TV to identify the best businesses in the categories of entertainment, food & drink, health care, house & home, service providers, shopping, sports & recreation, and transportation.