By Mike Everett, agent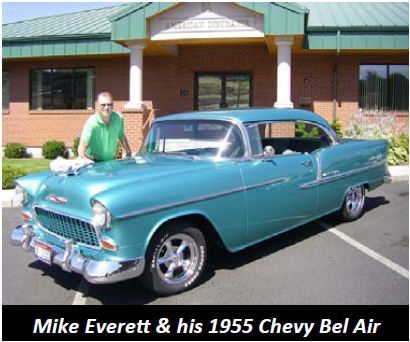 I've had a love affair with vintage cars for most of my adult life. It grew out of necessity (fixing my cars) and turned into a hobby by my thirties. Cars, trucks - anything old - is gratifying to restore, although I'm not sure you ever really 'finish' one. There's always more to do. I've restored about 10 cars over the years and they all present different challenges. My 55' Chevy Bel Air Hardtop (pictured) was purchased in 2000. I had just completed a 65' Chevelle hardtop and was looking for a new project. At the time, it looked like it needed some paint and minor mechanical - Ha! Two and a half years in the shop for the body work, powertrain, and upholstery, before it ever hit the street. Of course, I continue to work on it to this day.
Oh, one last thing, be sure your classic is properly insured. Give me or any of our agents a call and we'll make sure your 'baby' and your investment has insurance coverage tailored for your rod or classic. We offer a "guaranteed value" policy so you can drive worry free. For more information read Classic Cars – is special coverage needed?
See you on the road or at a car show this summer!