Now through August 13th Idaho law enforcement is targeting aggressive drivers and motorcycle riders on Idaho's roads. Speeding, failure to yield, following too close and disregarding traffic signals are all aggressive driving behaviors that will get you stopped and ticketed.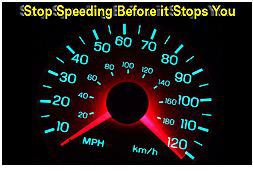 Despite progress in nearly every other area of highway safety, speeding continues to be a factor in approximately one-third of traffic deaths every year across the nation. In Idaho, that number is even higher. The Gem State has a higher rate of crashes involving aggressive driving than the national average. Aggressive driving was a contributing factor in nearly half of all crashes in the state in 2011, according to ITD crash data.
"By taking a one-team approach to target aggressive driving across Idaho, we can reduce deaths and serious injuries on our roads," said Col. G. Jerry Russell, director of Idaho State Police (ISP).
"One of the greatest risks to our health and safety occurs when we travel by car or motorcycle," said Josephine O'Connor from ITD's Office of Highway Safety. "More Idahoans aged 4 to 44 years are killed each year as a result of traffic crashes than by natural causes."
"Law enforcement is not just writing tickets for bad driving behavior. Law enforcement agencies across the state are partnering to target aggressive drivers and motorcycle riders to make our roads safer for Idahoans who want to arrive home safe to their families," said Chief Michael Masterson with Boise Police Department.
Live longer by avoiding your car on Fridays, especially between 3 p.m. and 6 p.m., since that's the time and day of the week when one is most likely to be involved in a fatal or serious injury crash caused by aggressive driving, according to ITD statistics.
Source: Idaho Transportation Department, The Transporter – Aug 3, 2012