Philip Sullivan, Insurance Agent and Personal Lines Manager at AMERICAN INSURANCE, fell in love with his first car, a 1965 Ford Mustang Fastback. Through his access to and abilities with the car, he spent his teenage driving years terrorizing Lewiston neighborhoods!
Although he had to work harder to be known for his LHS basketball experience, his notoriety related to the car came easier – at the expense of his neighborhood's serenity.
"I probably acted like an idiot and bothered the neighbors with the loud motor and by driving too fast," he said. "I'm sure that as a father now, I'm reaping what I sowed back then when I see and hear teenagers driving the way I used to drive. I probably actually deserve a lot more payback than I actually get."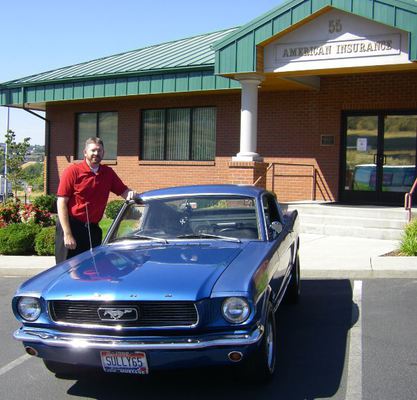 Philip understands the connection between young men and their cars. He saw the car listed in Spokane in the Wheel Deals catalog in the Friday, Feb. 3, 1995 edition.
"I looked at those magazines often, but the fact that I saw this particular one – that I have since kept as a memento – on the day it came out, and that it had this car in it, was sheer luck," he said.
By the time he called about the car a few hours later, there had already been 10 inquires on it. It was "priced to move" listed at $5,600.
Philip, his dad, John Sullivan, and their friend, Scott Meacham, made the drive to Spokane to pick it up that Saturday evening, but Philip still couldn't legally drive at night due to age limit regulations of that era.
"We got back to Lewiston at 11:30 p.m. and I took the car to a YAC dance for LHS students at the Community Center. Dad and Scott dropped me off at the dance with the car and the keys and made me promise not to drive it anywhere while they went to get coffee."
TICKETS, VIOLATIONS & CREATIVE EXCUSES
Philip finally got to drive the Mustang on Sunday morning before church with his mom. He usually acted more like a hellion than an angel, getting pulled over frequently during the three years that he drove the Mustang on a daily basis.
"Most of the time, if I was only going about 5 miles over the speed limit, I got the same song and dance – 'You need to treat the car with respect,'" he said, admitting that he deserved every speeding ticket he ever received.
When he got the first one, not only did he owe a fine, but Dad took the keys away for a week. When he got the second one, he paid it outright without reporting it to Dad.
"By then, I was out of high school and had gone up to Moscow."
And there were other tickets, some of which he claims were bogus violations.
"I got the Excessive Acceleration ticket when my friends and I were at Little Caesars on Southway Avenue, and it had rained so the roads were wet. I took pictures of the scene to fight my case, because I carried a Polaroid camera in my car to take pictures of properties for AMERICAN INSURANCE," Philip said. "But, when I took my picture proof into LPD, they didn't want to hear it. Apparently I had no wiggle room left to get out of a ticket at that point."
One of the Failure to Stop at a Stop Sign tickets was also bogus.
"It had just been added the previous day on 9th and 19th in front of Whitman Elementary, a route I drove every day to One Hour Western Photo to pick up developed prints for the AMERICAN INSURANCE office. They put a bright orange flag on the sign it a few days later to warn people about the new sign."
Philip said the car has no power brakes and no power steering, and a manual transmission.
"It also has a hot cam, so it doesn't like to travel less than 10-15 mph. I'm great at parallel parking, but not in that car," he said.
Speaking of, he also got a ticket near LHS once for not being parallel enough to the curb, when his front tire was maybe 8" and the rear tire was 4" away from the curb.
He got an Excessive Tire Rotation ticket while attending Hot August Nights in 1996, where he saw other drivers doing burn outs without consequences.
Car shows just weren't really a priority for Philip during his high school years.
"I played basketball and in the off-season, I worked at AMERICAN INSURANCE. My hobbies included hanging out with my friends and chasing girls. Those were what my life was about, not attending car show meetings."
In the '90s, there was no Facebook or emails or websites to help keep track of meetings or events, he added.
"I was more likely to be in the 3-on-3 tournament at an event than have my car there in the car show."
Philip said the loud engine – which might sound like a big block engine, but it's really not – offered a challenge during his teenage rebellion period.
"When I was sneaking out, I had to roll it down the hill and wait to start it a block later, and I had to coast it down the road on the way back home to really be discrete," he said. "Dad would always know something was up when I parked it out on the street and not in the driveway. I probably thought I was more sneaky than I really was, now that I look back on it."
TRAVELING NOTORIETY WITH THE 'STANG
When Philip moved to attend the University of Idaho, he bought a Blue Permit for the Mustang. Since he only found an open legal parking spot in a Blue Lot about 25 percent of the time, his notoriety continued in his parking encounters.
"I got tickets for parking in Red Lots, in which the Blue Permit did not work, for parking on curbs painted yellow inside a Blue Lot, or for not parking in an actual parking space."
Or, he would park on the street on campus when there were no permits for doing that. In other parking lots, like at the Student Union Building, parking spaces were first come, first served – and had a time limit.
"So I got tickets for parking in a spot past the time limit. I got a ticket for accidentally parking over the blue line of a handicapped spot. I also parked in a handicapped spot – at 11 p.m. on a Saturday night, when three other spaces were still open, so I wasn't really hogging the space. And, of course, I got a ticket for parking at a meter that had expired."
Even off campus, he also got a ticket for parking overnight downtown where vehicles are not allowed from 4-6 a.m. Philip admits that he probably got away with those shenanigans 90 percent of the time.
"But the other 10 percent led to dozens of tickets over the years."
And what started out as a $3 ticket would jump to a $10 or $15 ticket if not paid in a timely manner.
"When I went in to pay one of the tickets at the Moscow Police Department, the woman laughed at me when I told her my license plate. I thought that was an odd response, as if she knew me. That was a wakeup call to me that I had a sub-identity with MPD that I didn't intend to have."
During his lawful driving experiences, Philip ran out of gas dozens of times, sometimes even when pulling in to the pump.
"The gas station was a funny and a very unique place where I have an 80 percent chance of a stranger talking to me about the car," Philip said. "It's still the same today, 20 years later when I visit just a few times a year with the Mustang. I get asked a million questions, which usually start with a guess as to the car's model year. Then I get asked about the engine, which it's a 289 and not a 428."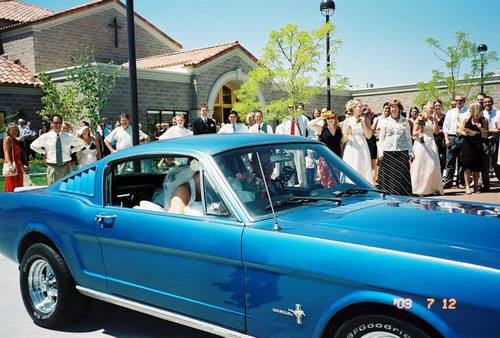 (Photo: Philip and LeeAnne are shown on their wedding day in the Mustang before he did a burn out in it, which caused the church priest to give a concerned look to onlookers after the couple had left the church.)
SELLING CLASSIC CAR INSURANCE
Since Philip works in the insurance industry, he has a two-fold interest in classic, antique, collector and exotic vehicle insurance policies, so he knows how to find you the best deal. Your "baby" can be insured for a much lower premium than with a regular auto insurance policy.
"The insurance industry recognizes that classic cars deserve special coverage and very low premiums because there are not the same risks as what you would have for a regular auto policy.
"Our classic auto policies have no deductible – none for physical damage, comprehensive coverage or collision options. Another benefit for these types of policies is the use of Agreed Value of the item instead of the Actual Cash Value. However, there are also certain eligibility requirements to qualify for this type of a policy, such as storing the vehicle inside a locked garage, and not being used as the main vehicle for a household's use."

AMERICAN INSURANCE offers special vehicle coverage for specialty cars through Hagerty Insurance, JC Taylor and Safeco. You can find more information about insurance for Classic and Collector Cars here. You can find your Classic Car Quote here.
So, does Philip still have the Mustang today?
"I've had friends who have had classic cars, but they have had to get rid of them when life happened. I've been lucky to have resources available to me so that I didn't have to sell the car when life happened."
You can contact AMERICAN INSURANCE here for any other questions you might have about personal property and casualty, commercial or benefit insurance options.