AMERICAN INSURANCE in Lewiston has Exchange certified health agents who provide no cost help to find you the best health care plan during the Medical Open Enrollment period.
"We are doing our best to shop all plans in the Washington and Idaho state exchanges to find customers the most affordable plan to fit their budget while also meeting their personal coverage needs," said Tim Gleason, health agent at AMERICAN INSURANCE.
Time is limited as open enrollment has already begun on Nov. 1 and runs through Jan. 31, 2016.
It is very important for consumers to shop the exchange marketplace to find a health insurance plan that balances benefits with affordable premiums as some insurers have shared a need for large premium increases. Consumers who don't act by Dec. 15 will be automatically be re-enrolled in their current plan at new higher rates.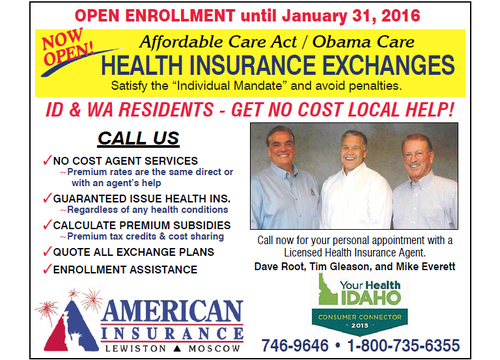 Popular consumer choices at American Insurance and their proposed rate changes are:
Blue Cross of Idaho Health Service, Inc. – Plans (such as Bronze Choice, Bronze H.S.A. Saver, Silver Choice, Gold Choice or Covered Choice) are set to increase about 23%
Regence BlueShield of Idaho – Plans have increases of an average of 6%, or about $18 per member per month, with some Regence plans even reducing their rates from 2015
The premium increase for any specific individual or family varies based on the geographic area, changes in enrollees or their ages, tobacco use, family composition and other factors.
"In spite of our best efforts in working with carriers, health insurance rates will be increasing for some Idahoans in 2016," says Idaho Department of Insurance Director Dean Cameron. "We will continue to explore ways to minimize increases going forward. In the meantime, we urge consumers to review their plans and shop wisely with assistance from a licensed agent and Your Health Idaho."
You can contact agents Tim Gleason, Dave Root, or Mike Everett for more about health insurance, or anyone in our American Insurance office at 208-746-9646 or "American@AmericanInsuranceID.com" <American [at] AmericanInsuranceID [dot] com?subject=RE:%20CHAMBER%20NEWSLETTER%20QUESTION> or www.americaninsuranceid.com/contact for any other insurance matters.
What are the differences between Agents, Brokers and Enrollment Counselors?
Local Enrollment Counselors as well as Washington and Idaho certified Agents and Brokers are available to provide in-person assistance regarding health care plans. All these options are provided at no cost to you. Each one includes the same rates on health care premiums. There are also no extra charges for you to access expertise in this field. Find out more about the differences here.